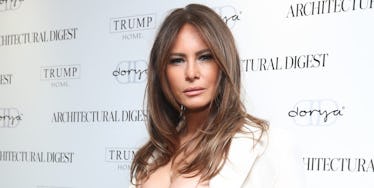 Melania Trump's Refusal To Live In White House May Cost You A Lot Of Money
REX/Shutterstock
In case you haven't heard, Donald Trump's wife isn't moving into the White House with him when it's time to re-locate to the Oval Office in January.
Instead, she's staying in New York City with their 10-year-old son, Barron, so he can finish his schooling without interruption.
Sounds harmless, right? HA, think again.
It turns out their refusal to move with the Donald will cost the Big Apple $1 million per day, DailyMail.com reports.
Did you read that correctly?
ONE. MILLION. DOLLARS. PER. DAY.
Here, let me just toss all the money I have out my apartment window in preparation.
Apparently, it's going to cost the Big Apple a lot of cash to protect the First Family when the president-elect moves to the White House.
It's been reported Donald Trump's children and grandchildren who live in NYC have been assigned protection from local police in addition to Secret Service, according to CNN Money.
Alas, the city will have to pay the police for their services.
How, you ask? With money. You know, that green paper we have very little amounts of.
Mayer Bill de Blasio admitted the city has never experienced this kind of struggle because no POTUS has ever been present in the concrete jungle on such a "regular basis."
De Blasio reportedly spoke at a press conference on Friday about the city's new undertaking and how the city plans on paying the NYPD for their services protecting the Trump family.
He said,
This is a very substantial undertaking. We will begin the conversation with the federal government shortly on reimbursement for the NYPD for some of the costs that we are incurring.
This isn't the first time New York City's sought reimbursement for protecting world leaders who have visited the area, but it's by far the most expensive.
For instance, when the heads of state visited the United Nations, the city was reimbursed $500,000 per week.
That's nothing compared to Donald Trump's requirements, though.
The mayor stated,
This makes [previous protection efforts] look quite small, obviously. We'll have to establish a new set of ground rules.
I'm a little scared to find out what those "ground rules" are going to be, but I'm going to start saving until I find out.
Citations: CNN Money, DailyMail.com