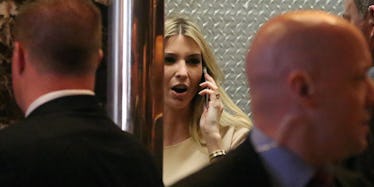 Ivanka Trump Joined Another Of Her Dad's Foreign Meetings And People Are Livid
REUTERS
It came to light that Ivanka Trump hopped on a call with her father, Donald, and President Mauricio Macri of Argentina.
That's shady AF.
Donald Trump has been meeting and calling with dozens of foreign leaders since he won the presidential election.
This is at least the second meeting with a foreign leader that Ivanka has joined. It was revealed she also sat in on her dad's meeting with Japanese Prime Minister Shinzo Abe.
Ivanka has been named part of Donald's transition team.
But it was also announced she and her siblings will be running the Trump businesses in "blind trust."
"Blind trust" is supposed to mean Donald doesn't have influence over anything going on in the company. But keeping the family close in both business and politics doesn't exactly scream "blind."
You also generally don't want your president to have conflicts of interest.
You know, like if he uses his power to get more money or help his businesses. This is especially if it's at the expense or neglect of the American people.
This Argentina call got extra shady.
First of all, we only found out Ivanka was in on it from an interview Macri did with a foreign newspaper, The Asahi Shimbun.
Trump has been keeping American journalists in the dark (and at times, actively attacking and rejecting them).
And then, curiously, Trump's "blind trust" business got involved.
Donald has been trying to build a Trump building in Buenos Aires, Argentina. But he needs government approval, which he hasn't gotten.
An Argentinean newspaper, La Nacion, reported on Monday that Trump talked about the building on his call with Macri.
Hours later, a spokesman for Macri said that did not happen.
Oh, wait: There's more!
Donald Trump also met last week with three business partners who are building a Trump apartment complex outside Mumbai, India.
A Trump spokeswoman said it was just a friendly meeting, and not "formal."
Ivanka and Eric also just happened to meet with one of those businessmen.
Spokeswomen for the Trump Organization and the president-elect both did not comment on whether the Trump kids talked business at that meeting, the New York Times reports.
But just as a reminder, Ivanka and Eric are serving on both Trump's business and political teams, and Ivanka is talking to both foreign leaders and businessmen.
I mean...
Citations: Cosmopolitan, The Hill, New York Times