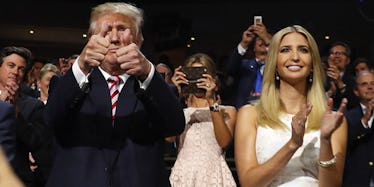 People Think Pic Of Ivanka At Dad's Japan Meeting Is Bad Sign For Next 4 Years
REUTERS
If you look at it a certain way, it's a pretty ordinary scene: Ivanka Trump, sitting down in her dad's home.
But the image has caused a bit of a stir all the same, as journalists get suspicious about the next First Daughter's relationship with her dad.
Allow me to explain.
On Thursday, President-elect Trump met with Japanese Prime Minister Shinzo Abe at Trump Tower in Manhattan.
A picture taken at the meeting shows Ivanka Trump sitting in on the conversation, which lasted 90 minutes according to Reuters.
Ivanka's presence at the meeting raised eyebrows for a couple of reasons.
First, Trump has consistently said he would hand over control of his businesses to his three oldest children (Ivanka, Eric and Don Jr.) in the event he won the White House.
Now that such an event has actually occurred, a number of ethical questions have been raised. Will the Trump children, as heirs of a sitting president, have influence and leverage they otherwise wouldn't have?
Will the president-elect himself make decisions that indirectly influence his business? Will he do something that uses his position to help improve the standing of the Trump Organization -- something like allowing his CEO to have access to foreign leaders?
In general, the questions are all about the ability of the president-elect to avoid having any of his decisions compromised by the fact that he has a huge business being run by his children.
And those same questions are the reason why, if you turn on your TV on to the news on Friday, there's a good chance you'll hear people utter the words "blind trust."
That's what Donald Trump has been called on to use by a number of government watchdog groups. In a letter written to the president-elect, the groups wrote,
We are writing to urge you to place all of your business assets and investments into a genuine blind trust or the equivalent. This means that control of these assets would be transferred to an independent trustee who would sell the assets and place the proceeds in investments which do not create conflicts of interest and which are not disclosed to you.
The idea is a blind trust would be a step toward assuring everyone the president-elect is working solely to better the country and not his organization.
And though Trump has intimated his business and his politics are separate matters, it's safe to say the photo showing Ivanka Trump included in his presidential affairs stand in clear contrast to his words.
Citations: The Guardian, Reuters