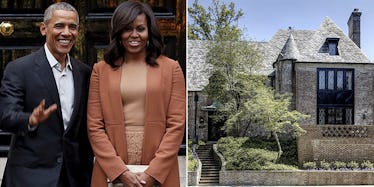 Here's The $4.3 Million Home The Obamas Will Move Into After The White House
REUTERS/MRIS
Now that President Obama's second term is all but over, it's time for the First Family to start looking for a new house.
After shopping around, it looks like they've settled on a quaint, 9-bedroom, 8,200 square-foot, $4.3 million home in the DC suburbs of Kalorama.
According to Daily Mail, the Obamas will be leasing the home from former Bill Clinton Press Secretary Joe Lockhart, who now works as a top NFL official.
The house reportedly comes with a home gym (so that Michelle Obama can keep her arms bionically toned), marble floors, a gourmet kitchen, a butler's pantry, a guest kitchen (because one six-burner stove is never enough), a wet bar and a wine cellar.
It also just happens to be freakin' gorgeous.
You can go on a virtual tour of the Obamas' new pad by watching the video below. Be careful, though: The amount of sparkling white marble just might blind you.
The home, which was built in 1928, features nine bedrooms and eight bathrooms. It awaits the president when his term officially ends in January.
And while some might have expected the First Family to return to Illinois, it's been made clear why Obama has chosen to stick around in DC.
As CNN noted, President Obama said in March that the family will reside near the Capitol for their youngest daughter.
We're going to have to stay a couple of years in DC probably, so Sasha can finish. Transferring someone in the middle of high school? Tough.
Now, you might find it strange the address of President Obama's new home would be so readily disclosed. After all, he's kind of important.
Be rest assured, though, he'll be safe no matter who knows where he lives.
Presidents are granted Secret Service protection even after they leave the White House. Secret Service Assistant Director Anthony Chapa told CNN in May,
It's an evaluation of the whole situation -- not just the neighbors, but the street, and the park across the street. We would want to talk to the neighbors. They'll have agents assigned to the residence who are here all the time, maintaining security and addressing issues. They've got a security apparatus coming to the neighborhood that is second to none.
Yup. I think they'll be just fine.
Citations: Obamas lease $4.3 million home in tony DC neighborhood - with nine bedrooms, an exercise room, and even a butler's pantry waiting for them when they quit the White House (Daily Mail), CNN