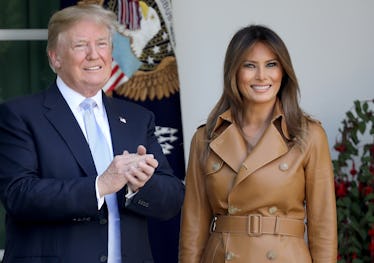 Melania Trump's Birthday Message For Donald Is Pretty Fitting, & I'm Here For It
Win McNamee/Getty Images News/Getty Images
June 14 marks Donald Trump's 72nd year on this Earth. Sure gifts are great and all, but there's nothing more special than celebrating with a loved one. Well, Melania Trump's birthday message to Donald Trump says so much by actually saying nothing at all.
Even though Thursday is Donald Trump's birthday, first lady Melania Trump has yet to mention it at all on social media. I don't know about y'all, but I'm having a serious case of deja-vu right now. On April 26, Donald Trump didn't tweet for Melania's birthday even though he was plugging his appearance on Fox & Friends that day. Of course the first lady might be spending some time with the birthday boy in person, but perhaps this is her way of having some subtle for her birthday snub?
Melania might not be celebrating Trump on social media, but that hasn't stopped his children from wishing their father a happy birthday. So far, Ivanka Trump, Eric Trump, and Donald Trump Jr. have posted heartfelt messages on social media. Trump's youngest daughter, Tiffany Trump, has yet to share anything, but she and Melania still have time to give the president a shoutout. Although each child's message is definitely straight from the heart, Donald Trump Jr. posted a particularly boastful message on Instagram.
He wrote,
What do you get the guy that has everything in his birthday? Nothing he works hard and gets it himself. What more could someone ask for than what he's accomplished in the past 16 months? Happy Birthday Dad. #maga#birthday#happybirthday
To be honest, I'm slightly proud of Melania for not posting about Trump's birthday. Marriage is a partnership after all, and if one spouse isn't taking to social media celebrate a birthday, then why should the other? You go Melania, stand your ground girl.
I may not know much about marriage, but I think it's safe to say that Melania and Donald Trump's partnership isn't exactly the most conventional. On April 1, the couple attended Easter Mass together, and pictures of the two together showed some interesting insight into their relationship. Elite Daily spoke to body language experts Patti Wood and Traci Brown about the current state of the Trumps' relationship based on their body language, and it revealed some interesting information. The experts particularly noted the moment when Trump and Melania de-boarded the plane, and how Trump didn't keep in step with Melania while walking to the church. According to Wood, this is a sign that Trump might not view Melania as a top priority.
"If there'd been a subconscious feeling [for Trump] that, 'I want to show her that she's my number one for me or she's my priority', he would've waited. He doesn't wait for her," Wood says. "His subconscious is still saying, 'I'm still number one.'"
Sure, running the United States might take precedent most of the time over certain matters. However, that doesn't mean you can forget about your duties in being a devoted husband. C'mon Trump, I'm sure you can handle both.
Trump may have not walked with Melania to the church, but he did wait for her to catch up to him at the entrance. From there, the two walked down the stairs together to attend Mass. On the surface this looks like a good sign, but Woods isn't convinced that it means things are perfect between the couple.
"It looks like he made a very conscious decision to wait at that doorway and come down with her," she says. "But I'm not seeing the little cues I want to see that say, 'Yes we're a happy couple.'"
Birthday message or not, I'm sure Trump will be relaxing plenty on his special day, probably on the golf course.