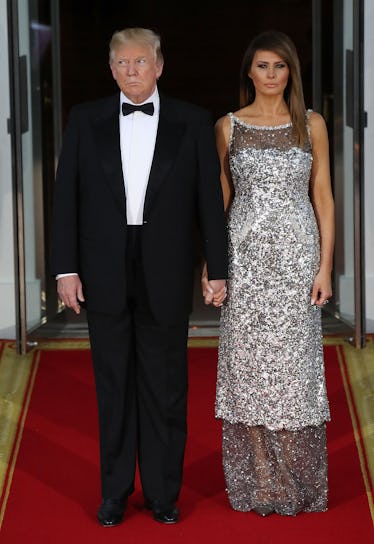 Donald Trump Hasn't Tweeted For Melania's Birthday, But He's Had Lots To Say About Other Things
Mark Wilson/Getty Images News/Getty Images
On Thursday, April 26, first lady Melania Trump turned 48 years old. As any good millennial knows, a birthday is a great time to show off how close you are with somebody by posting a celebratory message on social media. However, by 5 p.m. ET on Thursday, President Donald Trump still had not tweeted for Melania's birthday.
We all know that Donald Trump loves Twitter, so it's a little bit of a head scratcher as to why he hasn't used his favorite social media platform to celebrate his wife's birthday. Instead of wishing her a happy birthday, Trump has been taking to Twitter to share his new found friendship with apparent Trump supporter Kanye West. I understand that posting on social media isn't the ultimate form of appreciation and care, but what's even stranger in this situation is that Trump's family has taken to Twitter to wish their first lady happy birthday.
Before 2 p.m ET, Donald Trump Jr. took to Twitter to wish Melania a happy birthday. In addition, first daughter Ivanka Trump also took to the tweeting platform to wish her stepmother a happy 48 years. Does no one else find this slightly strange? What world are we living in that the first family is using Twitter more than Trump himself?
Trump definitely has a lot on his plate at the moment, but I personally think celebrating your wife's birthday is a perfect way to get rid of some White House stress. After all, what better way to get your mind off of the recent Stormy Daniels drama than enjoying a piece of birthday cake? I'm just saying.
Things have definitely seemed a bit chillier between Trump and Melania since January, when The Washington Post reported that Trump's personal lawyer, Michael Cohen, had paid pornographic actress Stormy Daniels, formerly known as Stephanie Clifford, $130,000 to keep quiet about an alleged affair she had with Trump back in 2006. Trump has continuously denied the alleged affair, but that hasn't stopped Melania from throwing some good ole' fashioned shade at her husband over the past few months.
It first became apparent that Melania might be a little salty over the Stormy Daniels matter during the 2018 State of the Union Address. Even though the first lady attended the event to support her husband, it was one small moment that had everyone raising their eyebrows. During his address, Trump mentioned the importance of "faith and family," and while the entire audience stood up to applaud, Melania stayed nestled in her seat. Awkward.
Just look at the expression on the first lady's face and tell me that's not the face of a scorned woman.
That was a few months ago, and since Michael Cohen told The New York Times in February that he had paid Daniels out of his own pocket, and that Trump and the Trump Organization had no knowledge of the payment.
He said,
Neither the Trump Organization nor the Trump campaign was a party to the transaction with Ms. Clifford, and neither reimbursed me for the payment, either directly or indirectly.
This is probably good news for the White House couple, but who can really blame Melania for holding a grudge?
Even though Trump may have not tweeted happy birthday to Melania as of yet, he could still make it up to her by giving her a few presents right? Well, apparently he struck out on that as well. During his April 26 interview with Fox & Friends, Trump discussed what he got Melania for her birthday, and given recent circumstances he couldn't have done a lot better.
"Well, I better not get into that because I may get in trouble," Trump told Fox & Friends. "Maybe I didn't get her so much. I'll tell you what — she has done — I got her a beautiful card. You know, I'm very busy to be running out looking for presents, OK? But I got her a beautiful card, beautiful flowers."
Since Trump isn't saying it, happy birthday Melania!