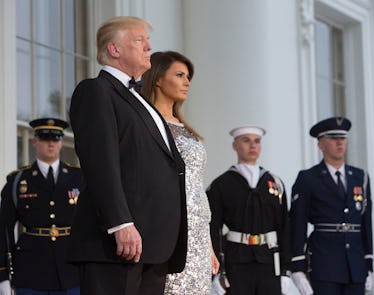 Donald Trump's Birthday Gift For Melania Is, Well, Not Great
Pool/Getty Images News/Getty Images
In an appearance on Fox & Friends on Thursday, April 26, the president mentioned that Thursday is his wife's birthday. So what did Donald Trump get Melania as a birthday gift? The gesture, to put it gently, was underwhelming.
Speaking to a couch by phone to thee Fox News hosts, Trump was asked about what he had up his sleeve for his wife's special day. In fact, this was the reason he said he decided to phone in.
"I picked a very very special day because it's Melania's birthday," Trump said. "So I said, let's do it on Melania's birthday."
One host asked him what he got her as a gift. "Well, I better not get into that because I may get in trouble," Trump said. "Maybe I didn't get her so much. I'll tell you what — she has done — I got her a beautiful card. You know, I'm very busy to be running out looking for presents, OK? But I got her a beautiful card, beautiful flowers. She did a fantastic job with France."
And it was a big deal that Trump bothered to call into the show in the first place. "We have never had a sitting president of the United States phone us at 8 o'clock," the show's lead-in said.
On Twitter, users commented on the president's interview and took aim at his announcement of the gift. "Trump begins his Fox & Friends interview by basically conceding he didn't get Melania a birthday gift," tweeted the Daily Beast's Sam Stein.
Toronto Star reporter Daniel Dale pointed out the odd exchange in a tweet. "Trump tells Fox and Friends that he decided to do an interview with them because it's Melania's birthday. Asked what he got her, he pauses and says, 'Maybe I didn't get her so much. I got her a beautiful card.'"
"Call me obsessed but Trump lies about everything," tweeted Vox's Liz Plank, "why wouldn't he lie about getting melania a birthday present?" As of January 2018, The Washington Post reported the president had made over 2,100 false or misleading statements in his tenure in office.
As of 11 a.m. ET, Trump himself had not used his favorite platform to wish his wife a happy birthday, as he's routinely done for his children. (Last year, he did send out a tweet in honor of her birthday.) Though he hadn't yet gotten around to doing so this year, he did, however, promote his Fox News spot in a tweet Wednesday.
And he was still self-promoting during the on-air interview. He gave himself full marks about his job in office, touting his accomplishments, saying, "I would give myself an A+. ... No one has been able to do what I'm able to do, and I've done it despite the fact that I have a cloud hanging over my head that doesn't exist."
The interview also proceeded to cover topics including Ronny Jackson's withdrawal from his nomination for Secretary of Veterans Affairs, Former FBI Director James Comey, North Korea, and his personal attorney Michael Cohen. Cohen has been caught up in an FBI investigation into payments he made on behalf of Trump to Stormy Daniels, an adult film start who alleges she had an affair with Trump in 2006.
"For Melania's birthday, Trump gave her an interview where he admitted he had spent a night in Moscow, and that Cohen WAS his lawyer on the Stormy Daniels matter — two things previously denied," tweeted lawyer and former Obama staffer Ronald Klain.
And if there were ever a time to get one's wife the over-the-top gift, now might be it. Trump is in the hot seat with his love life as two separate lawsuits are in full swing over breaking confidentiality agreements Daniels and another woman signed to stay quiet about affairs they alleged having with the president. Trump and the White House have repeatedly denied these affairs. But in the Fox & Friends interview Thursday, Trump admitted that Cohen was representing him in the Daniels deal.
And the first lady has already had a pretty intense (and we can only assume stressful) week. On Tuesday, she hosted the Trumps' first state dinner, in charge of putting on a good show for the French President Emmanuel Macron and his wife Brigitte. If anything, I'd say the woman deserves a massage.