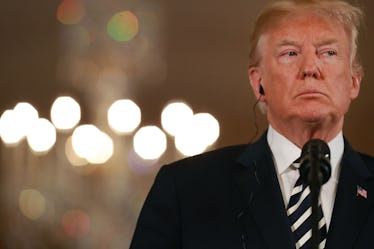 Donald Trump Said Michael Cohen Represented Him In "This Crazy Stormy Daniels Deal"
Chip Somodevilla/Getty Images News/Getty Images
On Thursday, April 26, the president called into Fox and Friends, because that's the reality we're living in now. In the course of doing so, while discussing the legal issues surrounding his longtime personal lawyer, Trump said Michael Cohen represented him on a "Stormy Daniels deal." This was a pretty surprising admission, considering just about everything the president and Cohen have said about any sort of agreement between the parties and Daniels. Elite Daily reached out to the White House for an additional comment on whether or not Cohen represented Trump in a "Daniels deal" and, if so, on what deal, but did not hear back at time of publication.
During his call to Fox and Friends, Trump was asked about Cohen's reported decision to plead the Fifth in a lawsuit filed against him by Daniels. In response, Trump said that Cohen is "a good person" and a "businessman" who "also practices law," and that "they're looking into something having to do with his business" that Trump says he is not involved in. When asked if Cohen's business partially involves being Trump's attorney, Trump asserted that he has "so many attorneys you wouldn't even believe it," and that Cohen only did a "tiny, tiny little fraction" of his legal work.
"Michael would represent me and represent me on some things," Trump said. "He represents me like with this crazy Stormy Daniels deal, he represented me, and, you know, from what I see, he did absolutely nothing wrong. There were no campaign funds going into this, which would've been a problem."
This apparent admission from Trump got some looks, as Trump has previously said that he did not know about a payment Cohen made to Daniels. In March, Cohen admitted to paying the adult film star $130,000 in October 2016 as part of a nondisclosure agreement, but he said the funds were from his own pocket and unrelated to the 2016 presidential campaign. Cohen reportedly paid Daniels this money so she would not talk about an alleged affair she had with Trump about a decade ago. Both Trump and the White House have denied that Daniels and Trump had an affair.
"What I did defensively for my personal client, and my friend, is what attorneys do for their high-profile clients. I would have done it in 2006. I would have done it in 2011. I truly care about him and the family — more than just as an employee and an attorney," Cohen said in March.
Michael Avenatti, Daniels' attorney, responded to Trump's comment later on Thursday morning during an appearance on MSNBC, calling it "another gift from the heavens." Avenatti said that it was "a hugely damaging admission by the president" because he'd previously said that he did not know anything about Cohen's dealings with Daniels.
Earlier this year, Daniels sued Trump, claiming that the nondisclosure agreement was not valid because Trump himself did not sign it. Elite Daily has reached out to the White House for comment on the lawsuit, but did not hear back. It's this lawsuit that Cohen is pleading the Fifth on. In a court filing made on Wednesday, Cohen said, "Based on the advice of counsel, I will assert my 5th amendment rights in connection with all proceeding in this case due to the ongoing criminal investigation by the FBI and U.S. Attorney for the Southern District of New York."
That Daniels lawsuit isn't the end of Cohen's legal troubles. According to The Washington Post, Cohen is allegedly under federal investigation for possible bank fraud, wire fraud, and violations of campaign finance laws. Elite Daily reached out to Cohen's attorney for comment on the investigation, but did not hear back. Cohen's office was raided by the FBI in early April — which Trump also mentioned on his Fox and Friends call — and they reportedly took records relating to a payment Cohen made to Daniels. Time will tell if this comment will come into play during the legal proceedings.