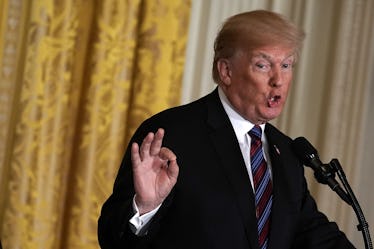 Donald Trump Says He Didn't Know About The Payment To Stormy Daniels, So OK Then
Alex Wong/Getty Images News/Getty Images
I don't know about y'all, but I'm living for this Donald Trump-Stormy Daniels drama. On Jan. 12, The Wall Street Journal reported that in 2016 Trump's personal lawyer, Michael Cohen, paid adult actress Stormy Daniels, aka Stephanie Clifford, to keep quiet about an alleged affair with Trump in 2006. While Trump has denied the allegations of an affair, he's remained pretty quiet on the payment. So this begs the question, did Donald Trump know about the Stormy Daniels payment? His answer really isn't that surprising.
Cohen has denied that Trump had any knowledge of the payment to Daniels, but on April 5, Donald Trump finally broke his silence about the matter, and to no one's surprise, Trump responded with a quick and terse "no" when asked by reporters onboard Air Force One whether he knew about the payment. This is his first public acknowledgment of the scandal since reports surfaced. The reporters continued to press for more details and asked Trump why Cohen would make the payment. Trump's response? Just as vague as I suspected.
"You'll have to ask Michael Cohen," Trump told reporters. "Michael is my attorney. You'll have to ask Michael."
I for one am not at all surprised by Trump denying the reports. Did anyone really expect him to say anything otherwise?
For those who have been living under a rock for the past few months, let me give you a rundown as to what's been going on. On Jan. 12, The Wall Street Journal reported that Trump's personal lawyer, Michael Cohen, paid Stormy Daniels $130,000 to sign an NDA to keep quiet about an alleged sexual encounter with Donald Trump in 2006. Cohen "vehemently denied" claims about the payment, as well as the alleged affair. Trump also denied allegations of the affair, but didn't speak out about the payment at the time reports surfaced.
But wait, the drama only continues. According to The New York Times on Feb. 13, Cohen admitted to paying Daniels the $130,000 in October 2016, a week before the presidential election. Cohen revealed the news in a statement, and simply referred to it as "a private transaction" that he paid for himself, and said that Trump had no knowledge of the payment. In a statement to the Times, Cohen said,
Neither the Trump Organization nor the Trump campaign was a party to the transaction with Ms. Clifford, and neither reimbursed me for the payment, either directly or indirectly. The payment to Stephanie Clifford was lawful, and was not a campaign contribution or a campaign expenditure by anyone.
However, on March 5, The Wall Street Journal released a new report claiming that Cohen was heard complaining that Trump didn't reimburse his six-figure payment to Daniels.
Alright.
There's been a lot of talk from Trump's team about the reports, but we finally got to hear Daniels' side of the story when she sat down with journalist Anderson Cooper for a special 60 Minutes episode on March 25. In the interview, we learned that Daniels might have actual evidence of the alleged affair with Trump, but honestly hearing that she allegedly spanked the president with a magazine is already too much information for me.
Donald Trump may deny knowing about the money sent to Clifford, but it could still mean trouble for the president. According to Trevor Potter, the former chairman of the Federal Election Commission, the payment to Daniels could interest Special Counsel Robert Mueller, who is currently investigating Donald Trump and his possible collusion with Russia during the 2016 presidential election. Why? Well, mainly because if Cohen made the payment to help Trump's presidential campaign, which seems likely, it could be defined as an illegal campaign contribution.
Today's denial could mean even more trouble, if Daniels' lawyer is to be believed. Following Trump's comments, Stormy Daniels' lawyer Michael Avenatti spoke about Trump's knowledge of the payment to Daniels during The Beat with Ari Melber on MSNBC, suggesting that by saying he didn't know about the payment, that Trump had proved Daniels' non-disclosure agreement (NDA) invalid — a huge plus for Daniels in their ongoing legal battle over the allegations.
Avenatti said,
If the president didn't know anything about the payment, then he obviously didn't know anything about the agreement, in which case you can't have an agreement. And then there is no such thing as an NDA. ... Now, if on the other hand, what he said on Air Force One is not accurate and I for one have serious questions as to its veracity or accuracy, they've got a whole host of problems.
It looks like this real life soap opera is only getting juicier.