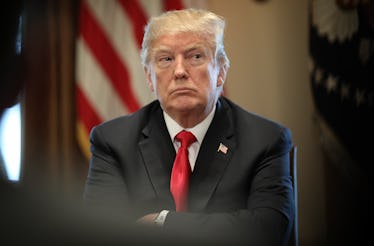 Donald Trump May Have Been Involved In Stormy Daniels Payment After All, Report Claims
Win McNamee/Getty Images News/Getty Images
As the reports involving President Donald Trump and adult film star Stormy Daniels continue to unfold, the situation just gets messier and messier. After reports that Trump and Daniels, (whose legal name is Stephanie Clifford) had allegedly had an affair broke in January, both Daniels and Trump's lawyer, Michael Cohen, initially denied reports of an affair. Now, a new report from The Wall Street Journal says that Cohen was heard complaining that Trump didn't reimburse his $130,000 payment to Daniels, the first reported connection between Trump himself and the reported payout.
These newly reported comments are the first reported links between Trump and the transaction, as when the news first broke Cohen denied that Trump or his campaign had been involved at all. On Feb. 13, Cohen said that he paid Daniels $130,000 from his own pocket in October 2016, 12 days before the presidential election, which The New York Times reported was in exchange for her silence on an alleged affair between her and the president. In a statement given to the Times, Cohen claimed that the payment had not come from either the Trump Organization or Trump's presidential campaign. He said,
Neither the Trump Organization nor the Trump campaign was a party to the transaction with Ms. Clifford, and neither reimbursed me for the payment, either directly or indirectly. The payment to Ms. Clifford was lawful, and was not a campaign contribution or a campaign expenditure by anyone.
However, on March 5, The Wall Street Journal reported that Cohen had complained that he had yet to be reimbursed by Trump for the transaction. But when speaking on the matter via a two-word statement to the Journal, Cohen simply maintained that it was "fake news." Elite Daily has also reached out to the White House for comment, but did not hear back by the time of publication.
The Journal also reported that First Republic Bank reported the payment to the Treasury Department, flagging it as a suspicious transaction. The newspaper noted that the review could have been a response to outside information or a subpoena, which makes the matter even more intriguing.
Though Trump has denied the alleged affair, Daniels herself has been cagey about the reports.
In a statement shared with Fox News in January, Cohen shut down the rumors of an affair, saying, "These rumors have circulated time and again since 2011. President Trump once again vehemently denies any such occurrence as has Ms. Daniels."
Stormy Daniels also declared that the rumors of her alleged affair with Trump were "absolutely false." In a letter from Jan. 10 that was obtained by Fox News, Daniels stated,
Rumors that I have received hush money from Donald Trump are completely false. If indeed I did have a relationship with Donald Trump, trust me, you wouldn't be reading about it in the news, you would be reading about it in my book. But the fact of the matter is, these stories are not true.
However, during a visit to Jimmy Kimmel Live! on Jan. 30, Daniels implied that she hadn't written a letter and failed to confirm or deny the affair. Though she didn't say much, she definitely hinted that she wasn't saying all she knew, if you ask me. When Kimmel pried her on the subject, asking, "But if you didn't have a nondisclosure agreement, you most certainly could say, 'I don't have a nondisclosure agreement.' Yes?" Daniels responded with "You're so smart, Jimmy."
*cough, cough*
Though a definitive answer has yet to be given on the subject in recent times, in a 2011 interview that Daniels reportedly gave In Touch magazine, she is quoted as saying that the alleged affair happened in 2006 shortly after Melania Trump gave birth to Barron. Daniels was quoted as saying, "At the time, I didn't think that much about it. But now that I have a baby that's the same age that his was at the time, I'm like, 'Wow, what a d*ck."
The interview also includes Trump's alleged reaction to Daniels' mentions of his wife. Daniels reportedly recalled,
I mentioned her. I was like, 'Yeah, what about your wife?' He goes, 'Oh, don't worry about her.' Quickly, quickly changed the subject.
Ouch.
The entire situation has been a game of who-said-what, but as it continues to unfold, I'm sure that everything will come to light eventually.