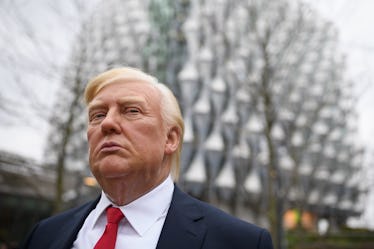 This Porn Star Was Allegedly Paid By Trump's Lawyer For Silence On An Encounter
Leon Neal/Getty Images News/Getty Images
In Trump's world, the drama clearly never ends. According to a new report from The Wall Street Journal, one of President Trump's personal lawyers, Michael Cohen, allegedly arranged a handsome, six-figure sum of money to be paid to a former adult film star named Stephanie Clifford — known in her industry as Stormy Daniels — to make sure she would not discuss an alleged sexual encounter she had with the president in 2006. Now, there's obviously a lot to unpack here, but first of all, who is Stormy Daniels?
Cohen told The Wall Street Journal that he "vehemently denies" these claims. He went on to say, "This is now the second time that you are raising outlandish allegations against my client. You have attempted to perpetuate this false narrative for over a year; a narrative that has been consistently denied by all parties since at least 2011."
Clifford herself said in a statement obtained by BuzzFeed that claims of an affair with Trump "is absolutely false" and that rumors of "hush money from Donald Trump are completely false."
According to The Hill, a White House official declined to comment on the payment — which, BTW, was allegedly $130,000 — but the official did say that the allegations related to any relationship between Clifford and President Trump were "old, recycled reports, which were published and strongly denied prior to the election."
As is often the case with any bizarre story about Trump, Twitter is all but losing their damn minds.
So, now that we've all gotten our feelings out of our systems, let's calm down for a moment and figure out who this woman actually is. Stormy Daniels — or Stephanie Clifford, if you want to go by her given name — is, yes, a porn star, who hails from the good ol' state of Louisiana, but fun fact: She also, once upon a time, considered a political career.
According to CBS News, back in 2010, Clifford entertained the possibility of running against former Republican Senator David Vitter. Apparently, she only dropped out because she felt she "did not fit in [the] mold of what an independent working woman should be," she said in a statement at the time. In the same statement, she blamed "the media and political elite" for having "sought to relegate my sense of civic responsibility to mere sideshow antics." So, yeah, do with that information what you will.
Aside from her short-lived political aspirations and her career as an adult film star, Clifford was also reportedly caught up in a case of domestic violence in Tampa, Florida back in 2009 with her then-husband Michael Mosny. According to NBC Chicago, Mosny told Tampa police that he and Clifford got into an argument "about the way the clothes had been done" and "about some bills that had not been paid." Clifford was ultimately charged with domestic violence battery, and two years later, she got a restraining order against Mosny, alleging "he attacked her and tried to steal her car," according to Newsweek. Clifford and Mosny are no longer together.
Look, from where I'm standing, it wasn't really shocking to hear a report that Trump allegedly had an affair with this woman while he was married to Melania. Nor am I batting an eyelash at the reports of alleged hush money to keep Stormy Daniels quiet about the whole thing. Perhaps this is simply what the Trump presidency does to a person: It numbs you to the point of being perpetually unsurprised by any reported news story, no matter how shocking or disturbing.
But seriously, we've already heard about the countless sexual misconduct allegations against Trump, and his response — along with the official White House position on the matter — has always been to deny, deny, deny. So, I can only assume that we'll see the exact same scenario unfold in the wake of this story. Cue Trump's passively angry tweet about how he's never even heard of Stormy Daniels.