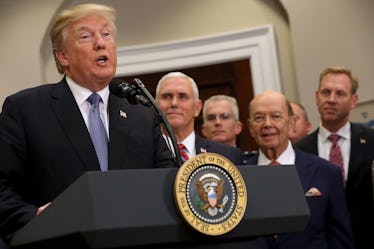 Trump Responds After Democrats Call For His Resignation Over Misconduct Allegations
Chip Somodevilla/Getty Images News/Getty Images
On Tuesday morning, Dec. 12, President Donald Trump tweeted out a message that essentially served as a response to the Democrats who have called on him to resign because of sexual misconduct allegations made against him. In the tweet, the president suggested that the calls were purely political and only being made because of what he says are failed attempts to show "collusion with Russia." Trump's tweet about the misconduct allegations also said he doesn't know any of the women who have accused him of sexual harassment, calling the allegations "fake news."
Here's exactly what the president had to say:
Despite thousands of hours wasted and many millions of dollars spent, the Democrats have been unable to show any collusion with Russia - so now they are moving on to the false accusations and fabricated stories of women who I don't know and/or have never met. FAKE NEWS!
Before the 2016 presidential election, more than a dozen women went public with sexual misconduct claims against the president. The White House's official stance is that all of these women are lying. Trump's newest comments on the accusations come as notable entertainment and political figures, one after another, continue to be the subject of detailed sexual misconduct claims. The president's tweet also comes a day after three of the women who accused him of harassment spoke publicly about their claims.
"This was serial misconduct and perversion on the part of Mr. Trump," said Rachel Crooks, a former receptionist who claims Trump forcibly kissed her without consent in 2005. "Unfortunately, this behavior isn't rare in our society, and people of all backgrounds can be victims. The only reason I am here today is that this offender is now the president of our country."
Crooks and the two other women who spoke publicly on Monday did so at a press conference hosted by Brave New Films, a production company that has documented the stories of Trump's accusers.
Another woman who spoke on Monday about the sexual harassment claims made against the president was Senator Kirsten Gillibrand (D-NY). During an interview with CNN's Christiane Amanpour, Gillibrand called on the president to resign.
"President Trump has committed assault, according to these women, and those are very credible allegations of misconduct and criminal activity, and he should be fully investigated and he should resign," Gillibrand told CNN. She also added, "These allegations are credible; they are numerous I've heard these women's testimony, and many of them are heartbreaking."
Senator Cory Booker (D-NJ) also made a similar call for the president to step down as other politicians, such as fellow Democrat Al Franken, have decided to do in recent weeks. "If we are now doing the right thing in this country and we're having a comeuppance and we're holding people accountable, if Al Franken just did the right thing to resign, it's time for Donald Trump to resign, as well," Booker said during a press conference in Newark, New Jersey, on Monday.
Franken, while announcing his imminent resignation, indeed referenced accusations made against the president. "I, of all people, am aware that there is some irony in the fact that I am leaving while a man who has bragged on tape about his history of sexual assault sits in the Oval Office and a man who has repeatedly preyed on young girls campaigns for the Senate with the full support of his party," the Minnesota senator said.
On Tuesday morning, President Trump responded defiantly to all three politicians, calling harassment accusations made against him "FAKE NEWS" and calling Gillibrand a "lightweight senator" who would "do anything" for campaign contributions from him in the past.
Gillibrand responded on Twitter, saying that the president "cannot silence me or the millions of women who have gotten off the sidelines to speak out about the unfitness and shame you have brought to the Oval Office."
Still, it doesn't look like the president is adhering to calls for his resignation any time soon.