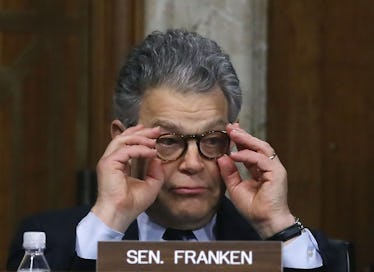 Al Franken Resigned In Big Announcement About Sexual Misconduct Allegations
Mark Wilson/Getty Images News/Getty Images
After reports of at least six separate claims of harassment made against him, Senator Al Franken announced he will resign from Congress. Franken, the junior senator from Minnesota, said on Thursday, Dec. 7 that the stepping down from office will be completed "in the coming weeks." Despite announcing his resignation, Franken did not apologize or admit to any of the harassment claims made against him. Much the contrary, the senator denied the validity of some of the claims.
The senator said that while he had been deferential to those who made claims against him, people had gotten "the false impression that I was admitting doing things that I hadn't done. Some of the allegations against me are simply not true. Others I remember differently."
During the announcement, which was delivered on the Senate floor, Sen. Franken pointed out what he called the "irony" about his resignation.
"I, of all people, am aware that there is some irony in the fact that I am leaving while a man who has bragged on tape about his history of sexual assault sits in the Oval Office and a man who has repeatedly preyed on young girls campaigns for the Senate with the full support of his party," Franken said, in a clear allusion to President Donald Trump, who has been accused of sexual misconduct by multiple women, and Alabama Senate candidate Roy Moore, who has been accused of sexual misconduct with teenagers. Moore denies allegations of wrongdoing, and the White House's official stance is that women making claims about Trump are lying.
With a vacancy in one of Minnesota's two U.S. Senate seats now imminent, the state's governor will be prompted to select an interim senator to serve in Franken's place until the next election. The governor, Democrat Mark Dayton, is expected to name a fellow member of the Democratic party to the seat, with his deputy, Lieutenant Governor Tina Smith, rumored to be his choice.
What Led To Franken's Resignation
On Wednesday, Dec. 6, a day before Franken announced his resignation, dozens of Democratic colleagues in the Senate called for him to step down, including Senate Minority Leader, Chuck Schumer (D-NY).
"Senator Franken should resign," Schumer said in a statement, per CNN. "I consider Senator Franken a dear friend and greatly respect his accomplishments, but he has a higher obligation to his constituents and the Senate, and he should step down immediately."
Earlier on Wednesday, Politico published a report detailing an unnamed former Democratic congressional aide's claim that Franken tried to forcibly kiss her in 2006, three years before the senator began his first congressional term. The report quoted the former aide as claiming,
He was between me and the door, and he was coming at me to kiss me. It was very quick, and I think my brain had to work really hard to be like 'Wait, what is happening?' But I knew whatever was happening was not right, and I ducked. I was really startled by it, and I just sort of booked it towards the door, and he said, 'It's my right as an entertainer.'
Franken would ultimately deny the claim, telling Politico in a statement, "this allegation is categorically not true and the idea that I would claim this as my right as an entertainer is preposterous." Still, a cascade of Democratic senators publicly stating that Franken should resign followed the publication of Politico's story. In total, 32 Democratic senators called for the Minnesota Congressman to resign, per CNN's count.
"Sexual harassment and misconduct should not be allowed by anyone and should not occur anywhere. I believe the best thing for Senator Franken to do is step down," Sen. Kamala Harris said via Twitter.
"The allegations against Sen. Franken describe behavior that cannot be tolerated," New York's Kirsten Gillibrand said, also on Twitter. "While he's entitled to an Ethics Committee hearing, I believe he should step aside to let someone else serve."
Franken did not specify the date at which his resignation would become effective.