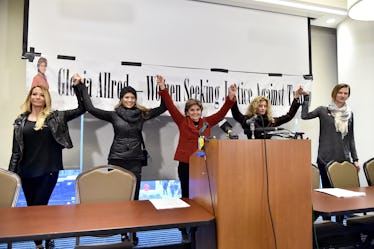 The Women Accusing Trump Of Misconduct Are Speaking Up Again Because Of #MeToo
Mike Coppola/Getty Images Entertainment/Getty Images
In October 2016, 16 women went on the record with their claims of sexual misconduct against President Donald Trump. Less than a month later, Trump was elected into office as the 45th President of the United States, essentially overriding the claims of sexual assault from the news cycle, and wiping those stories clean of traction and attention. A year later, the #MeToo movement, which caused a widespread eruption of women empowered to name their abusers and expose powerful men in their industry, has prompted Trump's accusers to speak up again with their stories. In their words, if powerful men in every field are being taken down, why isn't the most powerful of them all being held accountable?
The official White House stance on the accusations has remained the same: the women are lying. In an October 2017 press conference, White House Press Secretary Sarah Huckabee Sanders was forced to revisit the accusations, and dismissed them all as lies.
The stories were first told collectively on social media by Brave New Films in November 2017, in a short video called 16 Women and Donald Trump, which showcased each of the women detailing their alleged interactions with Trump. On Monday, Dec. 11, the film company, along with three of Trump's accusers, held a press conference to revisit the accusations and call for an investigation of Trump, because, as one of the accusers put it, "our stories seem to fall on deaf ears."
These women, along with the film company, felt it was appropriate and possibly more plausible to return to this conversation now, in light of the #MeToo movement's headway. The Brave New Films press conference host referred to Trump as the "one man that wasn't being held accountable and wasn't being called out. When the person who's been accused of [sexual misconduct] is the president, it's vitally important that we don't look the other way. Trump should be investigated."
Rachel Crooks, one of the three women who spoke at the press conference, detailed her story of working as a Trump Tower receptionist 12 years ago, when Trump allegedly "repeatedly kissed my cheeks and my lips. Given his notoriety, I felt there was nothing I could do." Crooks referred to the alleged encounters as "serial misconduct and perversion on the part of Mr. Trump."
One of the other women present, Jessica Leeds, spoke of her alleged interaction with Trump on an airplane more than 30 years ago. "He jumped all over me. He grabbed me and tried to kiss me, and he started to put his hand up my skirt. That was the last time I wore a skirt while traveling," Leeds claimed.
Leeds' photo, along with her story, was on the cover of The New York Times in October 2016, right around the time the Access Hollywood tape with Billy Bush and Trump surfaced. But the story didn't quite break in the way that Harvey Weinstein's accusers' stories have recently.
"I was absolutely destroyed when he won," Leeds said.
Crooks believes Trump should be held "to the same standard as Harvey Weinstein and the other men with reprehensible behavior." So what exactly does that mean? What happens next?
The women were asked if what they were looking for was a congressional investigation, as well as what committees they would bring their accusations to and on what grounds.
"It only stands fair that he be investigated with a nonpartisan investigation like other congressmen," Samantha Holvey, the third accuser present, said.
"If they were willing to investigate Senator Franken, it's only fair to do the same for Trump," Crooks added.
There was no further discussion about practical steps towards pursuing an investigation. The women agreed that they have no intention of taking this matter to court, as it would not accomplish anything. Leeds described the topic of sexual harassment as a "cultural phenomenon" that involves taking a public approach to change minds. "Courts are not the place to go," Leeds said.
As the #MeToo movement and female empowerment grows in numbers and in fervor, many hope that it will continue to permeate the most powerful industries and, possibly, reach the seemingly impenetrable White House.