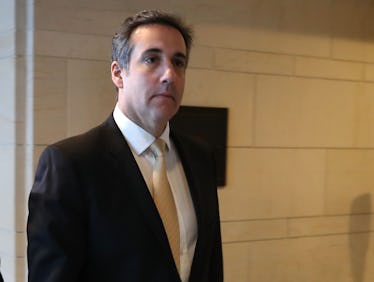 Twitter Is Making The Same Joke About Michael Cohen's Office Getting Raided
Mark Wilson/Getty Images News/Getty Images
When The New York Times reported that the FBI raided the office of Michael Cohen, one of President Donald Trump's lawyers, on Monday, April 9, it sparked a trend on social media. While cable news networks introduced the story with flashing "BREAKING NEWS" graphics, people on Twitter presented the report with something more simple: the same joke, over and over again. The result was a bunch of tweets about Michael Cohen's office raid that all referenced the same two words.
"Says who?"
That, by the way, isn't a question. That is the actual joke, and it's a reference to a viral interview Cohen did on CNN during the 2016 presidential campaign.
"Today, the U.S. attorney's office for the Southern District of New York executed a series of search warrants and seized the privileged communications between my client, Michael Cohen, and his clients," Cohen's lawyer, Stephen Ryan, said on Monday, per The New York Times. "I have been advised by federal prosecutors that the New York action is, in part, a referral by the office of special counsel, Robert Mueller."
In that August 2016 interview, CNN's Brianna Keilar told Cohen that the Trump team was trailing behind Hillary Clinton's in the polls, which was an indisputable fact (even if, especially in retrospect, an unimportant one).
Cohen's response? "Says who." The awkward pauses ensued, and the interview instantly became what Cohen could best be remembered for... That is, until the lawyer became the center of a story about an alleged affair between President Trump and former adult film star Stormy Daniels. (Trump and the White House have denied an affair. While Cohen has admitted to paying Daniels money, he has said it had no connection to the Trump campaign, and Trump has denied that he knew about it.)
So, when The Times reported on Monday that the FBI seized records related to Cohen's $130,000 payment to Daniels, the temptation to reference that memorable interview was too hard to resist for some, especially those who work in political media.
"I hate to do this," tweeted New York Magazine's Gabriel Debenedetti, "but... says who?"
Many more tweets like that followed.
News about the FBI's raid of Cohen's office in Manhattan — which happened as a result of a referral from special counsel Robert Mueller — also prompted a reaction from President Trump, albeit one that was much different. Trump was quite simply not amused.
"It's, frankly, a real disgrace," the president told reporters at the White House on Monday, April 9. "It's an attack on our country, in a true sense. It's an attack on what we all stand for. So when I saw this and when I heard it — I heard it like you did — I said, that is really now on a whole new level of unfairness."
And no, the president did not make a "says who" joke. But check out the video below for the moment where it all started:
People referencing the "says who" joke wasn't the only trend that emerged on Twitter, however. News about the FBI's raid prompted scrutiny as well.
The basic argument for concern is straightforward, too: Just because the special counsel is investigating one thing (i.e. possible connections between the Trump campaign and Russia), it shouldn't mean he has a right to overreach and investigate all things.
"Mueller and the US Attorney better have the goods on Cohen," Ari Fleischer, who was once the press secretary for former President George W. Bush, tweeted on Monday. "I have regularly defended Mueller. I think he is a man of integrity, but today's action is extraordinary. I doubt Mueller would have made a referral if he didn't need to."
By the end of Monday's news cycle, however, a couple more facts about the search became clear. First, the search was reportedly executed by the office of a Trump-appointed U.S. attorney in connection with possible bank fraud, according to The Washington Post, a fact which would undermine the idea of a "witch hunt." (Geoffrey Berman, the U.S. Attorney for the Southern District of New York who was appointed by Trump, recused himself from the Cohen investigation, ABC News reported on Tuesday afternoon, and the raid was handled by others in that office.) Second, the search was not conducted as part of the special counsel's Russia investigation, but the warrant for the search "likely" came as a result of information discovered during the Russia investigation, as The New York Times reported.
In other words, there are likely to be more breaking news stories to result from this narrative.
And please, don't ask "says who." Just take our word for it.
Editor's note: This article was updated with news that Geoffrey Berman had recused himself from the Cohen investigation, according to ABC News.