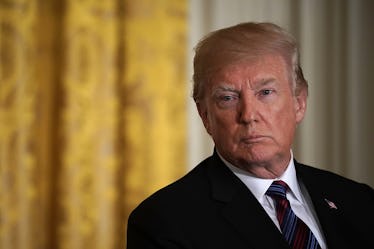 Donald Trump Responded To The FBI Raid On Michael Cohen, & Oh Man It's A Doozy
Alex Wong/Getty Images News/Getty Images
On the morning of April 9, the FBI reportedly searched both the office and the residence of President Donald Trump's personal attorney Michael Cohen. But Trump himself remained mum about the ordeal for much of the day — until the late afternoon, when he decided to give his two cents on the matter. And boy did the president have a lot to say. Donald Trump's response to the FBI raid on Michael Cohen is absolutely wild. But can we expect any less from this president? I think not.
While speaking at the White House during a meeting with military commanders on April 9, Trump decided to unleash his thoughts on the Cohen raid to reporters. The meeting was organized in order to discuss a response to an apparent chemical weapons attack in Syria. But Trump instead focused on the morning's events — and he definitely did not hold back in his response. The full thing went on for nearly nine minutes as Trump vented his grievances to the press. (You can read the full transcript here, if that's something you care to do.)
The president began his rant immediately addressing the situation when he stated,
So I just heard that they broke into the office of one of my personal attorneys — a good man. And it's a disgraceful situation. It's a total witch hunt. I've been saying it for a long time. I've wanted to keep it down... And it's a disgrace. It's, frankly, a real disgrace. It's an attack on our country, in a true sense. It's an attack on what we all stand for. So when I saw this and when I heard it — I heard it like you did — I said, that is really now on a whole new level of unfairness.
Oh really, Mr. President? Tell us how you really feel.
So why was Cohen's office and residence raided in the first place? According to The New York Times, FBI agents reportedly seized documents related to a number of topics, including the ongoing legal battle between the president and adult film star Stormy Daniels, who claims she had an affair with Trump back in 2006. The Wall Street Journal reported on Jan. 12 that Cohen had paid Daniels $130,000 shortly before the 2016 presidential election, reportedly to keep quiet about the alleged affair with the president. Cohen denied the allegations, but later said that he did make the payment out of his own pocket, and that President Trump was not involved. Trump has denied the allegations of an affair, and said that he did not know of the payment to Daniels.
The search warrant was granted to prosecutors in New York in part thanks to a referral by Special Counsel Robert Mueller, who is currently leading an ongoing investigation into whether or not Trump's 2016 presidential campaign colluded with Russia in order to sway the election in their favor.
Although the FBI raid was not directly related to Mueller's probe, the connection he has in enabling the warrants to be granted is significant, as it may indicate that the information the special counsel has shared with prosecutors was serious enough to grant the search and seizures. Could these seized documents be turned over to Mueller to aid him in his ongoing investigation as well? That, we don't yet know — but it's certainly possible.
While the president did not discuss his legal entanglements with Stormy Daniels concerning their alleged affair, on Monday, Trump did go off on the special counsel's connection to the raid, once again asserting that there was "no collusion" between his campaign and the Russian government. Trump referenced the House Intelligence Committee's conclusion in their investigation into whether or not Trump's election team colluded with the Russian government, saying,
They found no collusion whatsoever with Russia. The reason they found it is there was no collusion at all. No collusion. This is the most biased group of people. These people have the biggest conflicts of interest I've ever seen.
It's true that the GOP lead committee did end their investigation and concluded that they found no evidence that Trump or his campaign staff ever colluded with the Russians during the 2016 election. The problem with referencing this particular investigation is that it's not the defining investigation that will decide whether or not there was collusion — that honor will go to Mueller and his Justice Department team.
So Trump can complain all he wants about the raid being a "disgrace" and the ongoing investigation being a "witch hunt" — it clearly won't slow down the rate of this investigation into all of Trump's legal troubles.