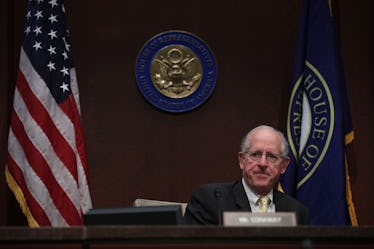 The House GOP Ended Its Probe Into Russian Election Meddling, & Here's What It Means
Alex Wong/Getty Images News/Getty Images
If you've been waiting for news of the ongoing Russia investigation, this one's for you. On March 12 the House Intelligence Committee announced that they have officially ended their investigation concerning possible collusion between President Donald Trump's 2016 election campaign and the Russian government. So, in light of this news, is the Russia investigation officially over? Well, this particular investigation is, but that doesn't mean that Trump is off the hook just yet.
The GOP led House Intelligence Committee has concluded that there is no evidence that Trump and his staff ever colluded with the Russians in order to sway the election in his favor, CNN reported on Monday. Rep. Mike Conaway (R-Texas) said that the investigation had no evidence to believe that Trump or his team were involved with the Russian government during his presidential campaign. The committee has prepared a 150 page draft of their findings and will submit it to House Democrats on the morning of March 13, before it can be released to the public. Conaway said about the GOP's report,
We found no evidence of any collusion of anything people were actually doing, other than taking a meeting they shouldn't have taken or just inadvertently being in the same building.
However, not everyone on the Intelligence Committee is on the same page. Democrats are expected to submit their own counter-report that will state that there is strong evidence that Trump colluded with the Kremlin.
Trump himself tweeted very enthusiastically in response to the House Intelligence Committee's findings.
He wrote in all caps,
THE HOUSE INTELLIGENCE COMMITTEE HAS, AFTER A 14 MONTH LONG IN-DEPTH INVESTIGATION, FOUND NO EVIDENCE OF COLLUSION OR COORDINATION BETWEEN THE TRUMP CAMPAIGN AND RUSSIA TO INFLUENCE THE 2016 PRESIDENTIAL ELECTION.
However, the results aren't too surprising, considering the drama around the investigation. In March 2017 it was reported that House Intelligence Committee Chairman Devin Nunes (D-Calif.) had shared information regarding the investigation with the White House before going to the committee. Nunes later stepped aside from the investigation committee.
But this doesn't mean the overarching investigation into whether or not Trump's camp colluded with Russia is over.
The real main event that everyone is waiting for is Special Counsel Robert Mueller's investigation findings via the Justice Department. This probe is the more significant one because Mueller actually has the authority to indict individuals, while investigations conducted by Congress cannot press charges or seek civil penalties. And although House Republicans have come to a conclusion, Mueller is just getting started. Since the investigation officially got underway in May 2017, the special counsel has indicted or gotten plea deals from 19 individuals and three companies. That group of individuals includes 13 Russian nationals, three Russian companies, and four former Trump advisers.
A number of Trump's close associates have pleaded guilty in Mueller's investigation — including former national security adviser Michael Flynn and campaign aide George Papadopoulos, who both pleaded guilty to lying to the FBI. And just three weeks ago on Feb. 18, former campaign aide to Trump Rick Gates decided to plead guilty to fraud-related charges brought by Mueller, despite initially pleading not guilty back in Oct. 2017.
So this investigation is far from over, and the conclusion that Mueller's team will find will ultimately be the definitive conclusion — not the GOP's.
And Mueller is taking this investigation so seriously that any evidence of bias from a member of his committee will result in their removal from their post. In fact, such an incident happened back in June 2017. When Mueller's team found out that an FBI agent working for the investigation had been sending anti-Trump texts he was immediately axed from his role in the probe. Members of the GOP have argued that the investigative team is biased in light of this information (which was made public in December 2017. But the removal of the agent shows that Mueller has a zero-tolerance policy when it comes to having bias influence in his investigation.
So even though the GOP committee claims that there is no evidence of collusion, it's definitely not the report that the general public is waiting for. Mueller has proven himself to be a professional and the right man for this particular job. So I don't think that a GOP conclusion will be slowing down the special counsel's investigation at all.