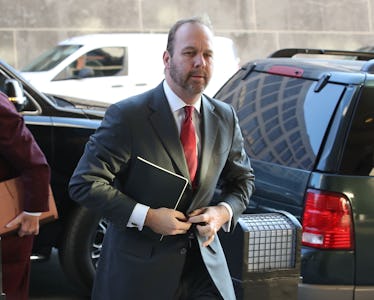 Another Ex-Trump Aide Is Pleading Guilty In The Russia Investigation, Reports Say
Mark Wilson/Getty Images News/Getty Images
Since President Donald Trump beat out Hillary Clinton for the Oval Office, Russia's involvement in the results of the 2016 election have come under investigation. Special counsel Robert Mueller has been leading the charge and slowly hacking through the brush to get at the truth. On Sunday, Feb. 18 the investigation became more heated because Trump's former campaign advisor, Rick Gates will plead guilty in the Russia investigation, reports say.
According to CNN, Gates was in negotiations for a plea deal with Mueller that had gone on for about a month. However on Feb. 18, The Hill reported that Gates, who initially pleaded not guilty to all charges, has reportedly agreed to plead guilty to fraud-related charges and testify against his old mentor Paul Manafort, Donald Trump's former campaign chair during the 2016 election, as part of his plea deal.
Back in October 2017, both Gates and Manafort had been indicted by a federal grand jury as part of Mueller's ongoing investigation into Russian meddling in the 2016 presidential election. The two were indicted on counts including unregistered agent of a foreign principal, false and misleading statements surrounding the Foreign Agents Registration Act, false statements, failure to file reports of foreign bank and financial accounts, conspiracy to launder money, and conspiracy against the United States, but pleaded not guilty to the charges.
According to the Los Angeles Times, a person with direct knowledge of the case said, "Rick Gates is going to change his plea to guilty." The person also added that it will be all done in federal court "within the next few days." A lawyer for Gates did not immediately respond to Elite Daily's request for comment.
Why the sudden change of heart? A person familiar with the plea negotiations told the Los Angeles Times that if Gates fully cooperates with the investigation he could see "a substantial reduction in his sentence." He added that Gates is likely to serve around 18 months in prison under the supposed deal.
Gates is the business partner of Paul Manafort, who served as Trump's chairman and has also been indicted in the Russia investigation. Gates met Manafort when he interned at Manafort's consulting firm, according to CBS. In 2006, Gates took a job at Manafort's lobbying firm. It was there that Gates reportedly became tied up in the Trump/Russia mess.
Russian oligarch Oleg Deripaska, who has tied to Vladimir Putin, was a client of Gates and Manafort's. In September 2017, The Washington Post reported that while Manafort was serving as Trump's campaign chairman, and Gates as his deputy, he had offered Deripaska private briefings on the presidential race. Manafort was eventually fired but his mentee Gates stayed on with Trump, reportedly serving as liaison to the Republican National Committee. Soon after Trump's inauguration, Gates left for position that the pro-Trump group America First Priorities, but left soon after.
If he pleads guilty, Gates will join a few others of Trump's former staff.
On Dec. 1, 2017, Trump's former national security advisor Michael Flynn was the first White House senior staff official to cut a deal with special counsel when he plead guilty to lying to the FBI about conversations with the Russian ambassador, Sergey I. Kislyak. The conversations revealed an effort to build a foreign policy before Trump took office, according to documents in the plea deal, The New York Times reported at the time. Such efforts undermined Barack Obama's existing policy. According to The New York Times, a senior Obama official even had to warn them to stop meddling in foreign affairs while Obama was still the sitting president.
In October 2017, former Trump campaign staffer George Papadopoulos also pleaded guilty in the special counsel's investigation into Russian meddling in the 2016 elections. It was found that he had been meeting with a professor, later identified as Joseph Mifsud, based in London but who had links to the Russian government, according to The New York Times. It was found, in documents unsealed during the trial, that the professor told Papadopoulos that the Russians had "dirt" on Clinton in "thousands of emails," reports The New York Times. Papadopoulos pleaded guilty to lying to the FBI about having that conversation.
Mueller's investigation is still going strong and not al the details are clear yet. But with Gates also joining the people who have come forward, the puzzle is starting to take form. Time will tell how this all unfolds.