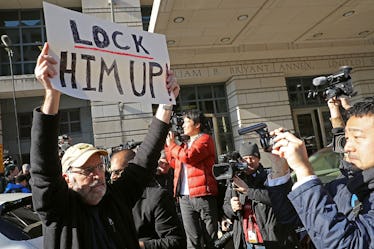 Michael Flynn Pleaded Guilty & Twitter Celebrated #MuellerTime
Chip Somodevilla/Getty Images News/Getty Images
On Friday, Dec. 1, President Donald Trump's former national security adviser Michael Flynn pleaded guilty to lying to the FBI. This is the latest move in the investigation by Robert Mueller, who was appointed as a special counsel, into possible collaboration between the Trump campaign and Russia to influence the 2016 presidential election. And as the news rolled in on Friday morning, tweets about Flynn's guilty plea showed just how excited people were to hear the news.
Flynn pleaded guilty for lying to the FBI about speaking with a Russian ambassador in December 2016. Flynn said in a statement that "false accusations [of treason and other charges] are contrary to everything I have ever done and stood for. But I recognize that the actions I acknowledged in court today were wrong, and, through my faith in God, I am working to set things right. My guilty plea and agreement to cooperate with the Special Counsel's Office reflect a decision I made in the best interests of my family and of our country."
According to some reports, he's willing to cooperate with the investigation — and may testify against Trump in the Russia investigation, ABC news reported. White House attorney Ty Cobb said in a statement that "nothing about the guilty plea or the charge implicates anyone other than Mr. Flynn."
Yeah, that didn't exactly stop Twitter from partying.
The hashtag #MuellerTime trended as people took in the Flynn news.
Many people took a moment to remember one of Flynn's classier moments.
Back during the presidential election, Flynn was a big fan of leading the "lock her up" chant against Hillary Clinton (you know, because her emails).
"If I did a tenth of what she did, I would be in jail today," Flynn said at the Republican National Convention in July 2016. Someone get me more tea, I seem to have already sipped it all.
And still others took a moment to consider the people who may be affected by this news.
Because they care for their old friend, of course. That's all.
Special care was given to Jared Kushner.
There was good reason for this attention on Kushner, the president's son-in-law. The court filings in Flynn's plea hearing refer to a "very senior member" of Trump's transition team, saying that "very senior member ... directed Flynn to contact officials from foreign governments, including Russia." According to NBC News, that "very senior member" is Kushner himself. Elite Daily reached out to the White House for comment on that claim, but did not hear back at time of publication. It was reported earlier this week that Kushner was questioned by the Mueller investigation in November, per Fox News. He was reportedly asked about a December 2016 meeting with a Russian ambassador and Flynn. The questioning was brief, at most 90 minutes, according to sources.
While many celebrated on Twitter, one person's low-key tweet stood out.
That tweet, of course, came from former FBI Director James Comey. After the Flynn news dropped, Comey tweeted a cryptic Hebrew Bible quote about justice. With this tweet, Comey also introduced the world to his Instagram account. Great branding!
As the boys and girls cracked open a cold one for #MuellerTime, some cautioned restraint.
Many Twitter users reminded each other that while this was fun for some, the tax bill is still looming and people should keep paying attention to that.
The Republican Senate tax bill was pushing forward throughout Friday, with Senate Majority Leader Mitch McConnell claiming that the Republicans have enough votes to get their version of the bill through. The bill has been criticized for helping corporations and the rich while hurting middle- and lower-income Americans over time. Need that Capitol switchboard number again? It's 202-224-3121.