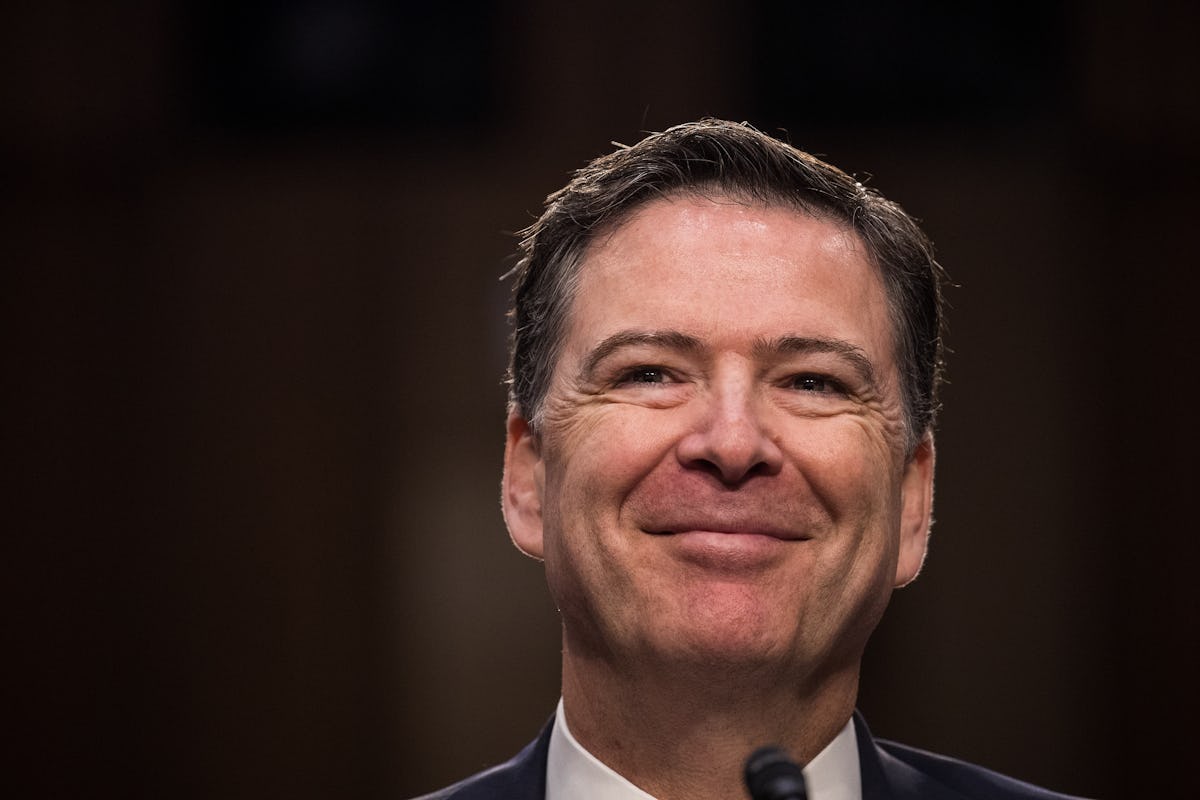 James Comey Subtweeted Michael Flynn's Guilty Plea & I'm Crying
Drew Angerer/Getty Images News/Getty Images
On Friday, Dec. 1, Twitter started screaming as it was announced that Donald Trump's former national security adviser Michael Flynn pleaded guilty to lying to the FBI. But everyone was looking out for a reaction from one person in particular: former FBI Director James Comey, who Trump fired in May. And, not one to disappoint, Comey tweeted a solid subtweet about Flynn — or, at least, that's sure what it looks like.
Ever since Comey formally acknowledged his Twitter account (he made it public with an @Comey handle in early November) and started tweeting a bunch in late October, the Twitter-using public has realized that whenever something goes down with the Trump administration, there tends to be a shady Comey tweet to meet it. He never technically discusses what's going on in the news on Twitter. Instead, Comey tweets out a cryptic quote that just happens to align with whatever is going on in Trump world.
On Friday, after the Flynn news came out, a cryptic Comey tweet again appeared. This one was simply a quote from the Book of Amos in the Hebrew Bible. "But justice roll down like waters and righteousness like an ever-flowing stream," the quote reads. And that's it! That's Comey's entire tweet.
So, no, Comey didn't technically tweet about Flynn... but lots of people took it that way, and you've gotta admit it seems pretty relevant to the day's news.
Comey has lots of reasons to be shady about bad things that happen to the Trump administration (current or former) in regards to the ongoing investigation into possible collusion with Russia to influence the 2016 presidential election. Comey had originally been the one leading the charge on this investigation. Then, Trump abruptly fired Comey in May. The president's initial official reason for firing Comey was because of his handling of Hillary Clinton's email server investigation. But later public comments from the president indicated that the firing also had to do with the Russia investigation. Trump told NBC News that he considered "this Russia thing" in making his decision to fire Comey. In June, Comey testified that Trump fired him to help undermine the investigation.
Comey's tweet isn't just remarkable for the side-eye of the quote, but also for the link it includes, which you might have noticed. His Friday tweet included an Instagram, and thus we officially have a Comey Instagram account to follow, as well. So far, there is only one post on Comey's IG account, which uses the name @a_higher_loyalty. The post is a picture of a river with the same Amos quote. The post was quickly flooded with enthusiastic comments, and less than an hour after it went up, Comey's account was up to 3,500 followers.
The investigation into possible connections between Russia and the Trump campaign to influence the election is now being led by Robert Mueller, who was appointed as special counsel to oversee it. On Friday, Flynn was charged with lying to the FBI about speaking with a Russian ambassador in December 2016. Flynn said in a statement,
After over 33 years of military service to our country, including nearly five years in combat away from my family, and then my decision to continue to serve the United States, it has been extraordinarily painful to endure these many months of false accusations of 'treason' and other outrageous acts. Such false accusations are contrary to everything I have ever done and stood for. But I recognize that the actions I acknowledged in court today were wrong, and, through my faith in God, I am working to set things right. My guilty plea and agreement to cooperate with the Special Counsel's Office reflect a decision I made in the best interests of my family and of our country. I accept full responsibility for my actions.
White House attorney Ty Cobb said in a statement that "Nothing about the guilty plea or the charge implicates anyone other than Mr. Flynn." ABC News chief investigative correspondent Brian Ross said on Friday that Flynn "is prepared to testify, we are told by a confidant, against President Trump, against members of the Trump family, and others in the White House."
Tweet on, Jimbo.