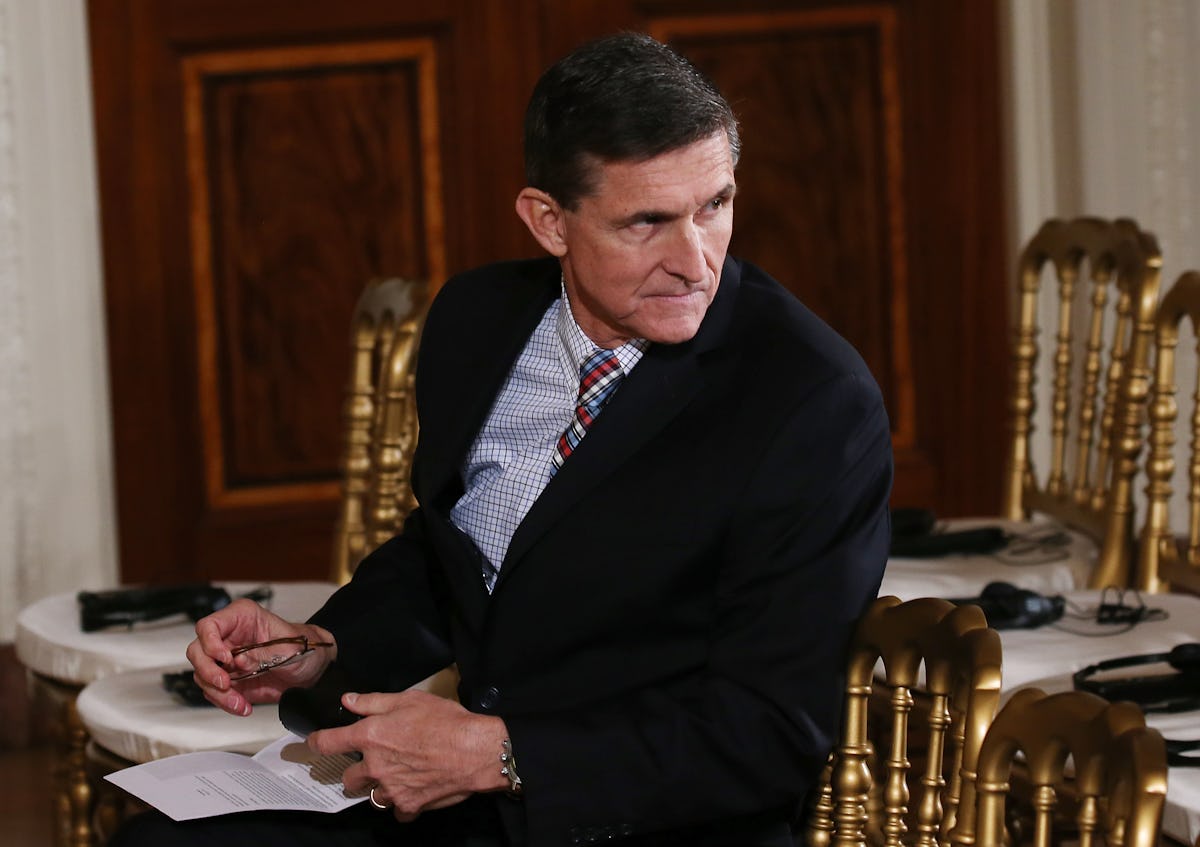 Michael Flynn Is Apparently Ready To Testify Against Trump, So Get Your Popcorn Ready — UPDATE
Mario Tama/Getty Images News/Getty Images
UPDATE: On Friday, Dec. 1, ABC issued a correction on their reporting about Michael Flynn potentially testifying against Donald Trump. In a statement on Dec. 2, ABC apologized "for the serious error we made yesterday," saying that "the reporting conveyed by Brian Ross during the special report had not been fully vetted through our editorial standards process. Ross has been suspended from the company for four weeks without pay. ABC's correction reads,
During a live Special Report, ABC News reported that a confidant of Lt. Gen. Michael Flynn said Flynn was prepared to testify that then-candidate Donald Trump instructed him to contact Russian officials during the campaign. That source later clarified that during the campaign, Trump assigned Flynn and a small circle of other senior advisers to find ways to repair relations with Russia and other hot spots. It was shortly after the election, that President-elect Trump directed Flynn to contact Russian officials on topics that included working jointly against ISIS.
EARLIER: On Friday morning, Dec. 1, President Donald Trump's former national security advisor, retired Lieutenant General Michael Flynn, pleaded guilty to lying to the FBI about his contacts with a Russian ambassador. The charge was brought forth at the direction of Robert Mueller, the former FBI director who serves as the special counsel in charge of the Department of Justice's Russia investigation. After a judge accepted the plea, an ABC News report indicated that Flynn is prepared to testify against Donald Trump and the president's team in an effort to cooperate with the investigation.
ABC News chief investigative correspondent Brian Ross reported,
He has promised full cooperation to the Mueller team. He is prepared to testify, we are told by a confidant, against President Trump, against members of the Trump family, and others in the White House. He is prepared to testify that President Trump — as a candidate, Donald Trump — ordered him, directed him to make contact with the Russians.
Flynn's Reaction To His Plea Deal
A statement from Flynn himself also indicated that he was prepared to cooperate with Mueller. The statement did not make any reference to President Trump. It read, "my guilty plea and agreement to cooperate with the Special Counsel's Office reflect a decision I made in the best interests of my family and of our country. I accept full responsibility for my actions."
Within the statement, Flynn also said his actions "were wrong, and, through my faith in God, I am working to set things right."
The White House's Reaction To Flynn's Plea
Since the charge against Flynn was announced by the Department of Justice, multiple reports have cited reactions from members inside the White House.
"Nothing about the guilty plea or the charge implicates anyone other than Mr. Flynn," Trump administration lawyer Ty Cobb said in a statement. "The conclusion of this phase of the special counsel's work demonstrates again that the special counsel is moving with all deliberate speed and clears the way for a prompt and reasonable conclusion."
Meanwhile, CNN reported that a source inside the White House labeled the charge against Flynn a "win" for the Trump administration. "People in the building are very happy. This doesn't lead back to Trump in any way, shape or form," CNN quoted the source as saying.
What Flynn's Cooperation Means For The Investigation
The verdict from legal experts across news outlets on Friday was virtually unanimous: The fact that only one charge was brought against Flynn, at a time when Mueller could have made more serious indictments, is a clear indicator that Mueller's team is looking to target other members of President Trump's orbit with Flynn's help.
"The fact that Flynn was charged with, and is pleading guilty to, such a minor crime, suggests a bombshell of a deal with prosecutors," Cornell law professor Jens Ohlin told Reuters. "Flynn was facing serious criminal liability for a variety of alleged missteps, including his failure to register as an agent of a foreign power. If this is the entirety of the plea deal, the best explanation for why Mueller would agree to it is that Flynn has something very valuable to offer in exchange: damaging testimony on someone else."
Flynn's cooperation already appears to have resulted in information that indicates that his conversations with a Russian ambassador came at the direction of Trump's transition team, while he was president-elect. At the federal district court in Washington, D.C., the prosecution said "a very senior member of the transition team directed" Flynn to speak to the ambassador, the Washington Post reports.
Whether any further information yielded by Robert Mueller's investigation, with the aid of Flynn, actually leads to further indictments or charges of President Trump's team will be yet another story to watch.