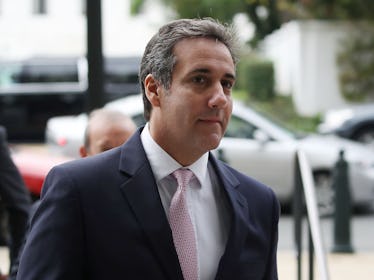 The FBI Reportedly Raided The Office Of Donald Trump's Lawyer, So This Is Getting Serious
Mark Wilson/Getty Images News/Getty Images
This Stormy Daniels saga is getting serious. The FBI raided the office of President Donald Trump's personal lawyer Michael Cohen on Monday, April 9, according to The New York Times. Agents have reportedly seized documents related to the ongoing legal battle between the president and adult film actress Stormy Daniels, among other topics of interest.
What's even more interesting about the fact that these documents are reportedly being seized is that this move apparently has a connection Special Counsel Robert Mueller and his investigation into Russian election meddling. In response to this report, Cohen's own personal lawyer Stephen Ryan said in a statement shared with The New York Times,
Today the U.S. Attorney's Office for the Southern District of New York executed a series of search warrants and seized the privileged communications between my client, Michael Cohen, and his clients. I have been advised by federal prosecutors that the New York action is, in part, a referral by the Office of Special Counsel, Robert Mueller.
Ryan also added that this search is "completely inappropriate and unnecessary," per the Times. The documents collected reportedly include communications between Trump and Cohen, as well as emails, tax documents and business records. Cohen's lawyer has stated that he has cooperated with authorities in turning over a multitude of documents related to congressional investigations into possible Russian meddling in the 2016 presidential election.
This is one reason why Ryan feels that the raid on Cohen is unwarranted. According to CNN, Cohen's lawyer stated,
These government tactics are also wrong because Mr. Cohen has cooperated completely with all government entities, including providing thousands of non-privileged documents to the Congress and sitting for depositions under oath.
While this raid does not seem to be directly related to Mueller's investigation into whether or not Trump's 2016 presidential campaign staff colluded with the Russian government, the indication that the search warrant was obtained (in part) due to Mueller's referral definitely says something.
The grounds for granting this warrant may have come from information discovered in his ongoing investigation that Mueller's office has shared with prosecutors in New York. It's not clear whether this is actually the case, but from what Cohen's lawyer has said it sounds pretty likely.
This is serious stuff, people. Although this is not the first time that we've seen the FBI raid the homes of individuals connected to Trump's presidential campaign as a result of Mueller's Russia probe, this raid is different. The FBI has previously raided the home of Trump's former campaign chairman Paul Manafort in July 2017, according to The Washington Post. While that search is definitely a significant one, this latest one involves someone much more closely connected to Trump on a personal level.
Cohen has been in the media spotlight as of late after it was first reported on Jan. 12 by The Wall Street Journal that he made a payment to adult film star Stormy Daniels (real name Stephanie Clifford) $130,000 to keep quiet about her alleged affair with Trump. Cohen "vehemently denied" the allegations at first, but later admitted to making the payment out of his own pocket on Feb. 13, which was reportedly issued one week before the 2016 presidential election. In the statement regarding the payment, Cohen said in a statement to the Times,
Neither the Trump Organization nor the Trump campaign was a party to the transaction with Ms. Clifford, and neither reimbursed me for the payment, either directly or indirectly.
Trump remained silent about Cohen and the payment to Daniels until April 5. Trump was asked by reporters whether or not he knew about the payment, to which he replied "no" — publicly acknowledging the scandal for the first time.
Things are definitely escalating here. And with Mueller's office tied to this latest FBI raid, we might be on the cusp of learning a ton of new information regarding both the alleged affair, as well as the Russia investigation and the Trump campaign.