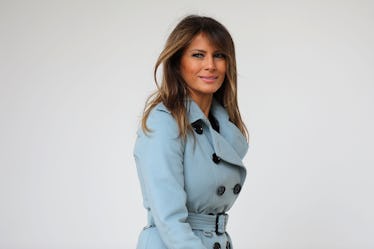 Melania Trump's First Initiative As First Lady Is Covering A Lot Of Ground
Chip Somodevilla/Getty Images News/Getty Images
Each first lady takes it upon herself to devote time to a special cause or initiative. Now, first lady Melania Trump has just unveiled her own campaign. So, what is "Be Best?" Melania Trump's new campaign is supposed to help children, and it's going to cover a lot of ground.
Live from the White House Rose Garden on Monday, May 7, Trump unveiled her initiative as first lady. It's called "Be Best" and will focus on three pillars that she believes pose most challenging to children: well-being, social media, and opioid abuse, according to Trump's statement. Through concentrating on those three areas while teaching about social, emotional, and physical health, "Be Best" aims to help "children 'Be Best' in their individual paths.'"
The first lady began by expressing her concern over the effect today's society has on children. Trump feels that this "fast-paced" and "ever-connected" world negatively impacts children's ability to express or handle their emotions. She said,
As a mother and as first lady, it concerns me that in today's fast-paced and ever-connected world, children can be less prepared to express or manage their emotions and oftentimes turn to forms of destructive or addictive behavior such as bullying, drug addiction or even suicide.
Trump went on to say that because of today's environment, it is important to teach our children "social and self-awareness," "positive relationship skills," and "responsible decision making." She said,
We can and should teach children the importance of social and self-awareness, positive relationship skills and responsible decision making. Let us teach our children the difference between right and wrong, and encourage them to be best in their individual paths in life.
Trump seems to have a lot of goals and points in her "Be Best" platform, so how does it all boil down to reach her goals? Well, according to her statement, the well-being portion will focus on building a solid foundation of values. Teaching children "healthy living," "kindness," and "respect." With those tools, it's the first lady's hope that children will be equipped to handle things like the opioid crisis or negativity on social media."
Another pillar of Trump's "Be Best" campaign is the opioid crisis. Opioid addiction has become an epidemic in the United States, and Trump's campaign will set out to help families and children affected by it. That includes things like educating parents on healthy pregnancies as well as shining a light on neonatal abstinence syndrome, which refers to a slew of medical issues that affect a child exposed to opioids while in the womb.
That leaves the final pillar of Trump's formal initiative: social media. According to her statement, this portion is supposed to teach children how to be "positive" online and speak with "respect and compassion" so that they can to utilize it in productive way and allow them to invoke change.
Does that sound ironic to you given how her husband, President Donald Trump, uses Twitter like his own personal diary (or pillow that your scream into)? If it did, you are not alone.
"She is aware of the critics, but it will not stop her from doing what she believes is best if it means helping children," Stephanie Grisham, the first lady's spokesperson, tells Elite Daily.
President Trump is infamous for using Twitter to say awful things about people and make broad claims with no self-editing (which is a social media practice that lots of regular folks make use of). In recent months, he's been preoccupied with calling all probing into possible Russian collusion in the 2016 election a "witch hunt," over and over (and over) again. On April 15, President Trump went on one of his Twitter rants about former Federal Bureau of Investigation (FBI) Director James Comey, calling him "slippery," and a "slimeball." And of course let's not forget that he refers to Hillary Clinton as "Crooked Hillary" online. So you get my point?
Apparently, I'm not the only one to see the irony in the first lady making positive social media interactions part of her initiative. According to The New York Times, Trump thought about excluding the "social media" portion from her platform. Back in March, Trump held a roundtable discussion with social media hotshots from sites like Facebook and Twitter to discuss putting an end to cyberbullying. After that, she received a lot of criticism and backlash given her husband's history with slinging insults online. So the first lady figured it would just be easier to drop the whole social media thing and choose something else. But, it looks like she decided to stick with it.
Looks like Trump believes that ending negative behavior online is crucial to her bigger plan to help children "Be Best." According to her spokesperson Stephanie Grisham, the first lady feels that she has no choice but to use her platform to better the lives of our children. She said, according to The New York Times, "There are too many critical issues facing children today for her to choose just one. She wants to use her platform as first lady to help as many children as she can."
Well, I think that all the "Be Best" pillars are extremely important, but it is a lot to take on. One of those things could take up four years in the White House and she's only got less than three left (for now, anyways).