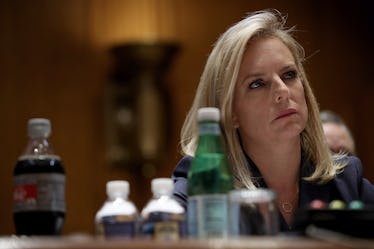 Everyone's Horrified About The DHS Head's Answer To This Question On Child Abuse
Win McNamee/Getty Images News/Getty Images
United States Secretary of Homeland Security Kirstjen Nielsen held a press conference at the White House on Monday, June 18, where she was asked about a new "zero tolerance" policy that is being enforced along the country's southern border. In recent weeks, the policy has seen nearly nearly 2,000 children separated from their families. The strict enforcement of this policy has many concerned about the lasting effects on the children, and in the press conference, one reporter asked about it — but it didn't go great. Kirstjen Nielsen's answer to this question about child abuse has everyone extremely horrified.
According to figures from the Department of Homeland Security that were obtained on June 16 by the Associated Press, nearly 2,000 children have been separated from their guardians along the U.S.-Mexico border during the span of a six-week period, from April 19 through May 31.
Questions concerning how these children are treated came up during the June 18 White House press conference, and CNN's senior White House correspondent Jeff Zelny pressed Nielsen on the issue of child abuse, asking her how separating children from their parents "is not child abuse?" Nielsen asked Zelny to "be more specific" as to what kind of child abuse he could be talking about, before going into all the things that were provided to the kids, and her answer is super problematic.
"We have high standards," she said. "We give them meals, we give them education, we give them medical care, there's videos, there's TVs."
Because TV time means that a child can't be abused? Also worth noting is that Nielsen's answer addressed the setup for children who had arrived in the country as unaccompanied minors prior to the new policy, and not the frequently-young children who have been separated from their parents since the policy was implemented.
I for one am appalled. And so are a lot of other people, as evidenced by the Twitter backlash Nielsen received following her incredibly problematic response.
A note, by the way, that the American Academy of Pediatrics has denounced the policy, saying that the trauma can seriously affect children for life. The AAP's May 8 statement said,
Highly stressful experiences, like family separation, can cause irreparable harm, disrupting a child's brain architecture and affecting his or her short- and long-term health. This type of prolonged exposure to serious stress - known as toxic stress - can carry lifelong consequences for children.
Nevertheless, Nielsen tried to defend this new policy by saying that most of the children that are under U.S. Health & Human Services (HHS) care were sent by their parents alone, and were therefore not separated from them by the U.S. government. Nielsen stated,
The vast majority of children that are in the care of HHS right now, 10,000 of the 12,000 were sent here alone by their parents. That's when they were separated. Somehow we've conflated everything, but there's two different issues. 10,000 of those currently in custody were sent by their parents, with strangers, to undertake a completely dangerous and deadly travel alone. We now care for them.
Seriously, just because most of the children that are currently being held under HHS care were sent alone doesn't excuse the fact that nearly 2,000 children were separated from their parents. Even if just just one child was separated from their parent or guardian due to this new law, it wouldn't make the "zero tolerance" policy enforcement right. The fact that Nielsen doesn't appear to see what's traumatizing about ripping families apart against their will is completely mind-blowing.
The public was so shocked by this press conference that it apparently prompted one individual to hack into Nielsen's Google search results and change her biography to include that she's a "notorious child abuser." The information was quickly changed back to its original text, but a reminder: the internet will always judge you.
Everyone should be concerned about the excuses that Nielsen is making for this new policy change. Just because something is the law doesn't make it right. No matter what your feelings are on immigration, the fact that families are being torn apart is something that everyone should agree is seriously wrong.