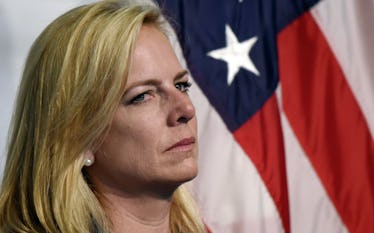 The DHS Head Tried To Explain Trump's Policy On Separating Families & It Was A Disaster
Handout/Getty Images News/Getty Images
Amidst growing concern over the Trump administration's immigration policy that's separating children from their parents, everyone was eager to hear the Secretary of Homeland Security, Kirstjen Nielsen, deliver a White House press briefing addressing the subject on Monday, June 18. However, this video of Kirstjen Nielsen's press briefing is an absolute mess. I wish I could say I was surprised, but this whole thing is just a disaster.
Nearly 2,000 children have been separated from their parents since an April 6 announcement by Attorney General Jeff Sessions to law enforcement in California and Arizona, according to The New York Times. Sessions divulged that under the Trump administration's "zero tolerance" policy on undocumented immigration, children will be taken away from their families at the southwest border while the adults they've traveled with are prosecuted.
While criticism of President Donald Trump's policy grows, and photos and video from the chain-linked fence detention centers that these children are being kept in were released, Nielsen took the podium on Monday from the White House to apparently do some damage control, a day after she tweeted "We do not have a policy of separating families at the border. Period." And unsurprisingly, it did not go well, with pretty much everyone in the room astonished at Nielsen's attempts to claim that the policy was innocuous or the fault of some other administration.
The theme of Nielsen's briefing seemed to be that the Department of Homeland Security (DHS) is simply upholding the law. "It's not a policy. Our policy at DHS is to do what we're sworn to do, which is to enforce the law," she said, adding that it's the burden of Congress to fix the law. Nielsen said,
This is a very serious issue that has resulted after years and years of Congress not taking action, so I would thank them both for their comments. I would thank them both for their concerns. I share their concerns. Congress is the one that needs to fix this.
She added,
We need Congress to fully fund our ability to hold families together through the immigration process. And until these loopholes are closed by Congress, it is not possible as a matter of law to detain and remove whole family units who arrive illegally in the United States.
Mm-hmm. This, of course, does not address the children that are currently being traumatized by the policy.
At one point, CNN's senior White House correspondent Jeff Zelny even asked Neilsen how she could say that separating young children from their parents and guardians and housing them in converted warehouses and Walmarts "is not child abuse?" To that Nielsen told reporters that DHS has "high standards" and the children are being given the care they need. She said,
We have high standards. We give them meals and we give them education and we give them medical care. There are videos, there are TVs. I visited the detention centers myself.
That does not address, however, the emotional ramifications separating families has on these children. The American Academy of Pediatrics warns that the policy can have lifelong effects on the children separated from their families, saying in a statement,
Highly stressful experiences, like family separation, can cause irreparable harm, disrupting a child's brain architecture and affecting his or her short- and long-term health. This type of prolonged exposure to serious stress - known as toxic stress - can carry lifelong consequences for children.
But Nielsen said that in no way are these children being used as a negotiating tool. "The children are not being used as a pawn," she said. "We're trying to protect the children, which is why I'm asking Congress to act."
Does it sound, then, like the children are not being used? I'm confused.
Nielsen also made the point of saying (and reiterating) that DHS is not taking children who "legitimately" enter the country through a point of entry, and who have proof that they have a familial relation to the child. However, according to a PBS story from 2017, KPBS reporter Jean Guerrero covered a story of an asylum seeker whose 1-year-old son was taken from him despite entering through a port and having the boy's original birth certificate with him.
Despite Nielsen trying to assure reporters that everything is on the up-and-up, she also had to answer to criticism of the policy from first ladies on both sides of the isle. On June 17, Laura Bush wrote an op-ed for The Washington Post in which she called Trump's "zero-tolerance" policy "cruel" and compared what Trump is doing to the Japanese interment camps during World War II. The former first lady wrote,
I live in a border state. I appreciate the need to enforce and protect our international boundaries, but this zero-tolerance policy is cruel. It is immoral. And it breaks my heart.
Michelle Obama, another former first lady, was quick to back up Bush's message, adding, " Sometimes truth transcends party."
Current first lady Melania Trump also commented on the "zero-tolerance" policy in a statement from her spokesperson Stephanie Grisham, saying that she doesn't like to see families separated, according to The Hill. Grisham said,
Mrs. Trump hates to see children separated from their families and hopes both sides of the aisle can finally come together to achieve successful immigration reform. She believes we need to be a country that follows all laws, but also a country that governs with heart.
It's kind of a huge deal to see first ladies from three different administrations all on the same page (more or less). It's a shame that this is what it took.