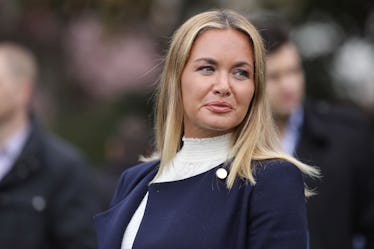 Vanessa Trump Posted A Seriously Poorly Timed Photo Of Her Kids Playing In A Tent
Chip Somodevilla/Getty Images News/Getty Images
The timing of Vanessa Trump's latest family picture could not have been worse. On Wednesday, June 20, amid a national controversy about President Donald Trump's administration separating children from their parents at the United States' southern border, the 40-year-old mother of five posted the picture on Twitter, but it wasn't just any photo. Vanessa Trump's photo with her kids featured them playing sitting around a play tent.
The caption read: "Last trip with my kiddies before their summer camps start."
Shortly after posting the photo, Vanessa Trump deleted it from her Twitter account, and it's not hard to guess why. The photo came at a time when reports about the treatment of migrant children at the border detail how they've been forced to be housed in caged facilities and tents as their parents are prosecuted for crossing the United States' southern boarder.
Meanwhile, Vanessa Trump — daughter-in-law of the president administering the policy of family seperation — flaunted a photo of her and her children merely pretending to use a tent. Safe to say, it was not the best contrast to volunteer.
To be clear, this is a level above what other "first family" members have been criticized for, after posting pictures either with, or relating to, children.
Ivanka Trump was criticized for posting a photo with her son in May. But the photo was just that, a picture of her and her son, against a background that was otherwise not noteworthy.
Sure, there was reason for critics most concerned about families at the border to resent the picture, but you could easily argue that it was merely a coincidence.
On Tuesday, first lady Melania Trump posted a photo of herself, the president, and the king and queen of Spain. The photo attracted criticism not because of the picture itself, but because of the comment that came along with it.
The caption of Melania's photo read, "A great visit with the King & Queen of Spain at the @WhiteHouse today. Queen Letizia & I enjoyed tea & time together focusing on the ways we can positively impact children."
Again, there was reason to resent Melania's words about finding ways to "positively impact children," specifically at a time when the defining story of her husband's administration is about negatively impacting children.
On the other hand, though, the first lady has always been seen as much more of an apolitical figure, whose focus is always going to be geared towards children. In addition, the idea of Melania making an effort to make positive change in an area her husband doesn't is no new idea. The first lady's Be Best initiative, which focuses on cyberbullying, among other things, is proof of that fact.
This latest photo from Vanessa Trump, though?
On any day, not just this specific political moment, the photo would seem like a weird one to post. Setting up a fake summer camp tent with kids and taking a picture is a pretty funny thing to do before they, you know, actually go to summer camp.
The fact that it comes at a time when reports of children crying at the government facilities into which they been forced dominates headline online makes that decision weirder.
And it doesn't look like Vanessa Trump will push back against any criticism of the photo either, though she is used to arguing against media coverage. A week earlier, she publicly defended Donald Trump Jr.'s relationship with Fox News host Kimberly Guilfoyle from media scrutiny.
"The lengths people will go to attack a woman simply because she's dating Don. We've been separated for over 9 months and respect each other's decisions & privacy," Vanessa Trump tweeted. "We'll focus on raising our great kids.Would be nice if the press did the same rather than obsess over our pvt lives!"
But considering the speed with which Vanessa Trump took down her latest photo, it doesn't seem like any similar pushback will be coming.