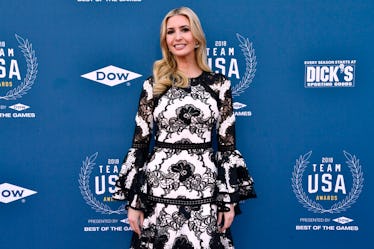 Ivanka Trump's Latest Tweet Has People Furious, & I Can See Why
Larry French/Getty Images Sport/Getty Images
Oh, Ivanka Trump, you've really stepped in it this time. The first daughter thought she was sharing a sweet little Sunday morning message, but some people felt that it was in poor taste given the news from the Department of Health and Human Services (HHS) that there are 1,500 migrant children missing as of April 26. These tweets about Ivanka Trump and #WhereAreTheChildren are calling out her otherwise sweet tweet. Timing really is everything, Ivanka.
On Sunday, May 27, the eldest Trump daughter tweeted a photo of herself holding her son Theodore, and captioned it "My *heart emoji*! #SundayMorning." It was a classic mother-and-son photo — which would be adorable if it were any other mother at any other time. But Trump's otherwise sweet photo is unintentionally highlighting national outrage around reports of immigrant children who have gone missing while in government custody, as well as that of families who are being separated from their children by the policies of the Trump administration.
On April 26, Steven Wagner, an official with the Department of Health and Human Services (HHS), said during testimony before the Senate that HHS had lost track of 1,475 migrant children in 2017, according to The New York Times. The children, most of whom are from Central American countries, were taken into government custody and placed with sponsor carers after they arrived alone at the southwest border. The lack of oversight has led to concerns about leaving the children at risk of human trafficking, according to the Times. In the wake of the reports, people began tweeting the hashtag #WhereAreTheChildren to urge the government to find those missing children. The hashtag was also used in response to Trump's tweet.
To boot, in an announcement to law enforcement officials in Arizona and California on May 7, Attorney General Jeff Sessions divulged that the Trump administration's "zero tolerance" policy against illegal immigration will include separating children from their parents at the southwest border, according to The Washington Post. He said,
If you smuggle illegal aliens across our border, then we will prosecute you. If you are smuggling a child, then we will prosecute you and that child will be separated from you as required by law. If you don't like that, then don't smuggle children over our border.
Critics have said that the policy is cruel and harmful to the children — who may not see their parents again for weeks or months, and whose parents may not know where they are. "Children and parents who are separated sometimes don't have any way to communicate with each other for days, for weeks," Laura St. John, the legal director for immigrant aid group the Florence Project, told MSNBC.
So, almost 1,500 children are missing, and other children are being forcibly separated from their parents, yet Trump decided to post a picture of her own child in her arms. Naturally, that made a lot of people very angry — and they wasted no time calling the first daughter out on her tweet.
Not only are there 1,500 children that are unaccounted for, with more being separated from their parents, but on May 23 a new report was released by the American Civil Liberties Union (ACLU), alleging that children detained by U.S. Customs and Border Protection (CBP) are being abused by authorities.
The report, which was based on over 30,000 pages of documents obtained by the ACLU, contains allegations of beatings, sexual violence, violent threats, and that children were denied medical attention. In a May 23 response to the ACLU, the CBP called the allegations "false" and "baseless." A spokesperson from the HHS Administration for Children and Families told Elite Daily that the organization will not comment publicly before responding to Congress. The spokesperson did, however, explain what happens when a child is placed with a sponsor:
When an [unaccompanied child] is placed with a sponsor, he or she ceases to be in the custody of the U.S. government and all HHS-provided subsistence — food, shelter, clothing, healthcare and education – ends at that point and the child becomes the responsibility of his or her parent, guardian, or sponsor.
OK then.
Between all of these things, it seems pretty clear that Trump's timing was truly terrible. Instead of posting the photo she did, the first daughter could have extended some sort of sympathy and show some compassion for the families who are missing their children, or not post at all. Regardless of politics, there are missing children out there and that's something that should never be overlooked, ignored, or trumped by a tweet.