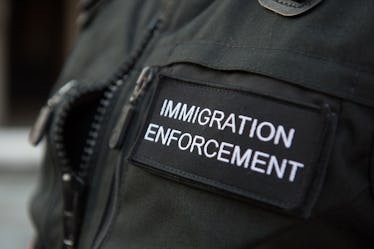 Detained Immigrant Children Are Reportedly Being Mistreated
WPA Pool/Getty Images News/Getty Images
Friday, May 25 is National Missing Children's Day. But this year, there may be even more cause for concern about missing minors than usual. Following news that the Department of Health and Human Services (HHS) had lost track of nearly 1,500 migrant children it had released from custody, a new report has found that detained immigrant children are reportedly being mistreated. According to a report by the American Civil Liberties Union (ACLU) released on May 23, U.S. authorities have been accused of allegedly abusing minors in their custody. Elite Daily reached out to the U.S. Office of Refugee Resettlement for comment but had not heard back at the time of publication.
UPDATE: A spokesperson from the HHS' Administration for Children and Families tells Elite Daily they are reviewing the Senate Homeland Security and Governmental Affairs Subcommittee's recommendations from the April hearing, and will not comment publicly before responding to Congress. The spokesperson continued:
When an [unaccompanied child] is placed with a sponsor, he or she ceases to be in the custody of the U.S. government and all HHS-provided subsistence — food, shelter, clothing, healthcare and education – ends at that point and the child becomes the responsibility of his or her parent, guardian, or sponsor.
Data on unaccompanied children released to sponsors can be found by state and by county.
EARLIER: The report, compiled by the ACLU in conjunction with the International Human Rights Clinic at the University of Chicago Law School, is based on over 30,000 documents obtained by the organization. The ACLU's report describes documentation of a number of instances of alleged verbal and physical abuse, including alleged sexual abuse, alleged exposure to health risks, and threats. Additionally, the report details instances of holding children past the three-day maximum detainment period.
On May 23, the U.S. Customs & Border Patrol (CBP) responded to the ACLU report, saying, "The false accusations made by the ACLU against the previous administration are unfounded and baseless," adding that many of the instances outlined in the report were allegations, and noting that it observed no evidence of abuse when it conducted its own visits to CBP facilities.
In its own report on these visits from 2014, the CBP said that "Most facilities were compliant with UAC laws," adding that complaints about the temperature were common. "Temperatures in DHS facilities were inconsistent," read the CPB report. "In some facilities, DHS employees cannot adjust thermostats."
Earlier this month, Attorney General Jeff Sessions announced harsh new policies to crack down on illegal border crossings, saying, "If you are smuggling a child, then we will prosecute you. And that child maybe separated from you as required by law."
"The students reviewing these records were shocked by the abuse and neglect these children were subjected to at the hands of U.S. officials," Claudia Flores, faculty director for the University of Chicago's IHR Clinic, said in an ACLU statement. "The fact that these children were already so vulnerable — most traveling alone in hopes of escaping violence and poverty in their home countries — made the unlawful and inhumane actions reflected in the documents even more distressing."
The ACLU report comes just a month after the HHS official testified to Congress that the department had lost track of 1,475 immigrant children after releasing them from officials' custody. The HHS works with the Department of Homeland Security (DHS) in handling minors detained. The CBP, as well as the U.S. Immigration & Customs Enforcement (ICE), are both part of the DHS. Minors who have been apprehended by the DHS are then transferred, per law, to the Office of Refugee Resettlement (ORR), under the HHS, which assumes custody. ORR administers the Unaccompanied Children (UAC) program, which is responsible for tens of thousands of minors a year, some of whom it releases to sponsors. Elite Daily's request for comment to the ORR about the 1,500 children that were reportedly not account for, as well as how many children had been admitted into the program in 2018, but had not been returned as of publication.
The children in the program, per The New York Times, were primarily from Guatemala, Honduras, and El Salvador, and had arrived at the U.S. alone. Government data reportedly showed they were fleeing their home countries on account of gang violence and domestic abuse.
But the ACLU shot back at the agency's defense. "CBP's response to this new report underscores the agency's continuing indifference and the need for real reforms," said Mitra Ebadolahi, ACLU Border Litigation Project Attorney, tells me in an email for Elite Daily. "Notably, [it] does not address the fact that CBP appears to be violating a federal child abuse reporting law."
The New York Times reported on April 20 that some 700 children had been taken from their parents, according to figures provided by the ORR, about 100 of them under the age of 4. But this appeared to be a rosy statistic. On April 26, the HHS' Steve Wagner disclosed that the department had attempted to reach over 7,600 children who had been released to sponsors. While it learned at the time that approximately 6,000 of them remained so, it could not confirm what had happened to 1,475 of them. (Needless to say, that 700 figure didn't quite cover it.)
On social media, users have reacted to the news of the unaccounted children with concern.
Multiple users have pointed out the risks that the minors could face, such as the risk of falling victim to human trafficking. "AZ ICE has lost 1,475 immigrant children," tweeted Amy Siskind, president of The New Agenda. "What do they mean 'lost'???" wrote artist and activist Eric Victorino. "Which almost certainly means they are being trafficked," said writer Monica Byrne in response. "This will rank as one of the greatest atrocities in our nation's history. And that's saying something."
"Who is sending an [Amber] Alert on their behalf?" asked activist Max Berger.
"ICE has lost 1475 children. In 30 years, one of them will write a memoir that is a damning condemnation of this moment in American history," tweeted author and historian Heather Cox Richardson.
Friday, May 25, also happens to be National Missing Children's Day, for which ICE and the DHS have been posting on Twitter all day. The Department of Justice recognizes the day with a ceremony every year; the 2018 ceremony took place on Wednesday, May 23.