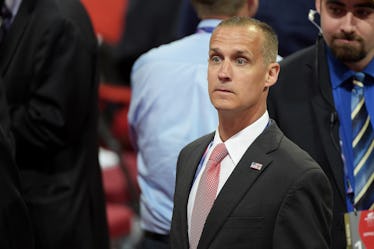 Trump's Ex-Campaign Chair's Reaction To A Girl Separated From Her Mom Is The Worst
Jeff Swensen/Getty Images News/Getty Images
Sometimes, it feels like President Donald Trump and all those around him are engaged in a constant game of one-upmanship to see who can be the most heartless and unsympathetic. And while in this administration there are definitely some real contenders — I'm looking at you, Jeff Sessions — I think we've finally got a clear winner. On Tuesday June 19, Trump's former campaign manager Corey Lewandowski went on Fox News to talk about migrant children separated from their families, and took this crown. Seriously, Corey Lewandowski's "womp womp" video might be the worst thing I've ever seen, and I look at the news every day.
On Tuesday night, Lewandowski was engaged in a discussion with former senior Democratic National Committee adviser Zac Petkanas on Fox News about the Trump administration's policy of separating undocumented migrant children from their parents as a matter of course. The administration's "zero tolerance" policy requires all adults crossing the border without documentation to be prosecuted, which means that children are forcibly separated from their guardians since they cannot go to jail with the adults. The policy has been criticized as cruel and inhumane, a point that Petkanas was apparently trying to make when he brought up the story of a 10-year old girl with Down Syndrome who was taken from her mother at the border. The girl's story was originally shared by Mexican Foreign Minister Luis Videgaray, who called it "particularly painful," per CNN.
Petkanas apparently agreed. He started, "I read today about a 10-year-old girl with Down Syndrome who was taken from her mother and put in a cage —"
Which was as far as he got, before Lewandowski interrupted him with a sarcastic, "womp womp." Um, is something funny?
To his credit, Petkanas seems appropriately stunned at Lewandowski's callousness, breaking off to ask in a stunned voice, "did you just say 'womp womp' to a 10-year-old with Down Syndrome being taken from her mother?" When Lewandowski tries to use the moment to justify the policy, Petkanas overrides him. "How dare you. How dare you!"
Lest it need to be said, there is nothing funny or ridiculous about a child with a genetic condition being taken from her mother, whatever the reason. "Womp womp" is for teasing your friends. It is not for mocking a child with cognitive delays separated from her mother and put in a cage.
In the weeks since Attorney General Jeff Sessions announced the zero tolerance policy in early April, almost 2,000 undocumented migrant children have been separated from their parents or guardians, according to the Department of Homeland Security (DHS). The psychological consequences of this can be deep and long-lasting, and the American Academy of Pediatrics (AAP) has denounced the policy, saying that it can have lifelong effects for children. In a statement, the AAP said,
Highly stressful experiences, like family separation, can cause irreparable harm, disrupting a child's brain architecture and affecting his or her short- and long-term health. This type of prolonged exposure to serious stress - known as toxic stress - can carry lifelong consequences for children.
In the short term, the consequences have been equally troubling, with reports of detained parents struggling to find out where their children are, or even parents deported while their children are kept in the United States.
The policy has even earned the denunciation of those most apolitical of political figures, with all five living first ladies condemning it. Even current first lady Melania Trump, who's known for staying out of policy issues, released a statement saying that she "hates to see children separated from their families" (although she also did hedge her bets by echoing her husband's false talking point blaming the Democrats for the situation, saying that "both sides of the aisle" need to find a solution).
Politics are politics, and no one is ever going to agree on everything. But if we can't agree that children who have been forcibly separated from their parents are deserving of sympathy, compassion, and help — well then, we have a bigger problem than mere politics.