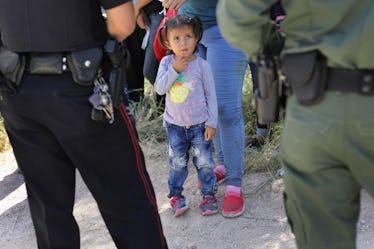 Donald Trump's "Zero Tolerance" Policy Might Be More Serious Than You Think
John Moore/Getty Images News/Getty Images
Here's a sad fact: since April, the Trump administration's new separation policy has isolated at least 2,000 children from their parents. As backlash for the controversial regulation intensifies, many people want to know: what does "zero tolerance" mean? So, let's talk about it.
The "zero tolerance policy" was announced by Attorney General Jeff Sessions on April 6 for undocumented immigrants who cross into the United States. The policy directs the U.S. Attorneys in states along the southern border to prosecute all Department of Homeland Security (DHS) referrals, including for the misdemeanor of "illegal entry" — meaning that, as a rule, people who cross the border without documentation will be detained and prosecuted, per The Washington Post. Previously, families arriving with children were generally released, with those requesting asylum going through the civil court system, according to CNN. But because children can't go with their parents or guardians into jails and through the criminal court system, under the new policy they get treated as unaccompanied minors and put through a different system, leading to families getting separated. The children are put in the custody of the Office of Refugee Resettlement (ORR), and spend an average of just under two months in a shelter before being placed with a sponsor or family member.
Sessions described the zero tolerance policy, per New York Magazine:
If you are smuggling a child, then we will prosecute you and that child will be separated from you as required by law. If you don't like that, then don't smuggle children over our border. We are not going to let this country be invaded. We will not be stampeded. We will not capitulate to lawlessness.
In the several weeks since the policy was enacted, almost 2,000 children have been separated from their guardians, according to NPR. There have also been reports of parents deported without their children, and the American Academy of Pediatrics has condemned the policy for the "lifelong consequences" it can have on children.
A recently-released audio of children separated from their families at the border paints a picture of the effect the policy is having on the children taken from their guardians. The recording was shared by an unidentified source to ProPublica on June 18 and appears to depict children — estimated to be between the ages of 4 and 10 years old — desperately sobbing for their parents. At one point in the eight-minute recording, a border patrol agent can also seemingly be heard making a joke. "Well, we have an orchestra here," the worker says. "What's missing is a conductor." The comment has, of course, fueled criticism, with many describing it as callous and worrisome.
However, President Donald Trump hasn't given any indication that he's going to budge from the policy. In fact, he stood defiantly against the backlash of the regulation during remarks at the White House on June 18. He said, per The Guardian:
The United States will not be a migrant camp and it will not be a refugee holding facility. Not on my watch. You take a look at the death and destruction that's been caused by people coming into this country, without going through a process.
He's also shifted the responsibility of the policy on Democrats, falsely claiming his administration was only enforcing it because of previous laws. In a series of tweets shared on June 18, he commanded Congress "CHANGE THE LAWS!"
However, as many outlets have pointed out, there isn't any law that requires families be separated, and even past administrations have avoided the practice.
So in conclusion, if I had to describe the zero tolerance policy to you in short, I'd say it makes zero sense. It's unclear what'll happen to this regulation in the future, but for now, the chances of it changing seem to be grim.