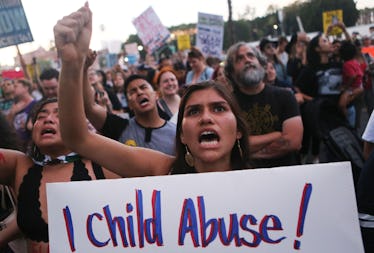 This Trump Policy Is Splitting Up Families At The Border & It's Heartbreaking
Mario Tama/Getty Images News/Getty Images
Social media has been abuzz this week with reactions to stories of immigrant families being split up at the U.S. border. The process of separating parents from their children as prosecutors prepare legal cases against them is a cruel one, and it has come under fire by critics of the Trump administration for being unnecessary and harsh. Why are children separated from parents at the border in the first place? A new Trump administration policy is largely to blame.
If you've been following the discussion on social media, you'll have noticed that outrage began to mount last week when MSNBC journalist Jacob Soboroff tweeted an inside look at one of the facilities housing unaccompanied migrant children on June 13. Other journalists were allowed into detention centers across the southern border over the weekend, prompting more outcry, as details of the prison-like conditions emerged, per Politico.
But the policy initiative that made the practice of separating children from parents common happened in April, when U.S. Attorney General Jeff Sessions announced his so-called "zero tolerance" policy at the border — an extreme tightening of enforcement that undid leniency toward first-time offenders, asylum-seekers, or parents with small children.
Sessions explained the mentality behind the cruel policy in May in a speech he gave before lawmakers, per NPR, saying,
If you cross this border unlawfully, then we will prosecute you. It's that simple. If you smuggle illegal aliens across our border, then we will prosecute you. If you are smuggling a child, then we will prosecute you and that child will be separated from you as required by law. If you don't like that, then don't smuggle children over our border.
The "zero tolerance" policy has reportedly led to an increased number of detained immigrants — including those who have been separated from their young children — as they await prosecution. With stricter enforcement, there was reportedly a 20 percent increase of migrant children without their parents held in custody since April, according to McClatchy, which is reportedly straining the government's resources to house the children.
It has been characteristic of President Donald Trump ever since he launched his campaign to appear tough on immigration — aiming to succeed in that effort more so than his predecessors, who were too reluctant to institute practices of separating families at the border. Facing a reported uptick in illegal border crossings, Trump ordered the harsher policy into effect, per The New York Times. But even Trump himself acknowledged that children being split from their parents wasn't ideal. He falsely blamed the practice on Democrats — refusing to own his delivered campaign promise of unimaginable cruelty.
Trump campaigned on cruelty, implemented it, and when the fallout became indefensible, he lied to his base to inflame the agony. This is his administration's failure. Trump's senior policy adviser, Stephen Miller, took a more resolute stance on the policy than the president in a June 16 interview with the New York Times, saying,
No nation can have the policy that whole classes of people are immune from immigration law or enforcement. It was a simple decision by the administration to have a zero tolerance policy for illegal entry, period. The message is that no one is exempt from immigration law.
The argument from right-wing Trumpsters about the urgency of this "zero tolerance" illegal immigration policy doesn't quite add up. Advocates for tighter immigration laws often say that they don't mind legal immigrants, it's just those pesky illegal immigrants that are sailing into America to absorb all the benefits. But the Trump administration is reportedly making it harder for immigrants to seek asylum — which is a completely legal process.
As Vox reporter Dara Lind reported, there are two ways to come to the U.S. to claim asylum without having papers: Either approach the U.S. at an official port of entry and present yourself to agents of Customs and Border Protection (CBP), or cross into the border and indicate to CBP agents that you're seeking asylum. Some who try to seek asylum the "right way" have been turned away, per Vox, and there's evidence that CBP agents are physically blocking some asylum seekers from setting foot on U.S. soil (and therefore, they cannot surrender to agents and seek asylum legally.)
So, it seems like the Trump administration is burning the candle from both ends — discouraging legal immigration and illegal immigration, closing off the borders, and punishing people indiscriminately (even small children). All this, while the human consequences shrugged off by Sessions and the Trump administration have angered critics in the weeks since the tightened practices were rolled out.
A Honduran father separated from his wife and child killed himself in a Texas jail in May after suffering a breakdown, U.S. authorities confirmed to NBC News. Last month, reports circulated that the government had "lost" nearly 1,500 children who had arrived in the U.S. alone. (The Department of Health and Human Services argued that it is not their responsibility to keep track of children who are placed with U.S. sponsors, and that they weren't actually "lost.")
And beyond all of this, research shows that separating parents and children at the border does not deter new immigrants from attempting to cross the border, according to The Intercept. A 2015 survey published in the Journal on Migration and Human Security found that many deterrent strategies "do not have a strong deterrent effect" on illegal border crossing.
"Instead," the report said, "immigration enforcement has led to a 'caging effect' over the past two decades which has disrupted seasonal migration flows, increased familial and social ties to the United States, and decreased the probability of returning to Mexico once in the United States."
So the question of "why are children being separated from their parents at the border?" has a simple enough answer: The Trump administration ordered it so. The more challenging inquiry is, "how much of this cruelty will Americans let stand?"