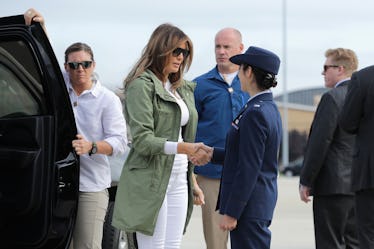 Twitter Is Outraged Over The Jacket Melania Trump Wore To Visit Migrant Children
Chip Somodevilla/Getty Images News/Getty Images
Another day, another reason to say "oh my god what is even happening in 2018." On Thursday, June 21, first lady Melania Trump visited detained migrant children in Texas — which was a nice move in and of itself. Unfortunately, she chose to set out while wearing a jacket that had the words, "I really don't care, do u?" written on the back. It's not a good look in more ways than one, and these tweets about Melania Trump's "I don't care" jacket show none of us can believe this is the reality we're living in.
The first lady wore the jacket to visit a detention center in McAllen, Texas, where more than 55 minors between the ages of 12 and 17 are being held, per ABC News. Facility officials said that the majority of the children held were unaccompanied minors who had crossed the border alone, but that some had been separated from families. At the center, Trump — who had apparently removed the jacket before disembarking from her plane in Texas — met with the children in classrooms and asked them about their studies, including whether they were learning English. "Work hard, study hard, it is very important," she told the children, according to ABC.
Of course, considering the other message, literally emblazoned across Trump's back via the $39 Zara jacket, some people had to ask — did this really just happen?
In a statement to CNN, Trump's spokesperson Stephanie Grisham appeared to confirm that yes, the jacket is real, and was for whatever bewildering reason what the first lady chose to wear to make this trip. "It's a jacket. There was no hidden message," Grisham said. "After today's important visit to Texas, I hope the media isn't going to choose to focus on her wardrobe."
Well the idea that there is, as Grisham said, "no hidden message" in the choice of clothing would be a lot more credible if the overt message on the jacket didn't appear to confirm an accusation that many have already leveled against the Trump administration — namely, that they don't care about the plight of migrant children separated from their families and detained.
In early April, the Trump administration announced a "zero-tolerance" immigration policy under which all undocumented immigrants would be prosecuted — meaning that they would be separated from any children they were traveling with, as the children could not go to jail with the adults. In the weeks since the policy was implemented, more than 2,000 children have been separated from their parents or guardians, according to The Guardian, a practice that the American Academy of Pediatrics (AAP) warns "can carry lifelong consequences for children." Photos and recordings of sobbing children have outraged the nation, and critics across the political spectrum denounced the policy as heartless. On June 20, President Donald Trump capitulated to criticism and signed a vague executive order that he said would keep families together in spite of the policy, which still stands. However, the order is unlikely to help families who have already been split up, some of whom have reportedly already been deported without their children.
So the first lady's jacket? Not helping anything.
Sadly, this is hardly the first time Trump's wardrobe choices have been criticized for insensitivity. Last year, the first lady took heat for choosing to wear tall stiletto heels to visit a region that had been devastated by a hurricane — twice. In August, Trump chose a stiletto look to visit Houston, Texas, which was at the time still flooded with more than 50 inches of water in some areas. And then in October she did it again, porting high heels to visit Puerto Rico, which had just been decimated by Hurricane Maria.
So I don't know. Maybe the "I don't care" on the first lady's jacket had more to do with what she thinks of our opinions on her style choices. All I can say is that insensitivity — or even the appearance of it — isn't a good look.