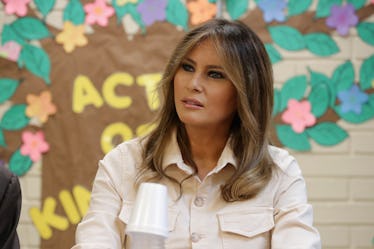 Melania Trump Made A Surprise Visit To A Children's Detention Center At The Border
Chip Somodevilla/Getty Images News/Getty Images
On Thursday, June 21, first lady Melania Trump visited a children's detention center in Texas. The center currently holds more than 55 minors, mostly between the ages of 12 and 17, per ABC News. Melania's visit to the center had previously been unannounced.
Elite Daily reached out to the first lady's spokesperson for comment on the visit and information on when it was planned and her intention with the visit, but did not hear back immediately.
However, the White House published an official statement from Melania Trump's communications director, Stephanie Grisham, detailing the first lady's purpose for the trip. It reads,
First Lady Melania Trump has arrived in Texas to take part in briefings and tours at a nonprofit social services center for children who have entered the United States illegally and a customs and border patrol processing center. Her goals are to thank law enforcement and social services providers for their hard work, lend support and hear more on how the administration can build upon the already existing efforts to reunite children with their families.
According to CNN's Kate Bennett, Grisham also said that the first lady made the decision to travel to Texas less than 24 hours before, and that it was "100 percent her idea."
Accompanying the first lady on the trip to Texas is Alex Azar, the Secretary of the Department of Health and Human Services.
The first lady's visit to Texas comes a day after President Donald Trump signed an executive order with a stated goal to suspend the separation of migrant families caught illegally crossing the United States' southern border.
In the days leading up to the signing of the order, the issue of family separation had become a national controversy, earning the president's immigration policies a rebuke from notable member of his party.
The seperation of those families is the result of a "zero tolerance" policy announce by the Department of Justice in April, which resulted in the pursuit of prosecutions for every migrant that illegal crossed the border. According to the Department of Homeland Security, over 2,000 migrant children had been separated from their parents between May and June.
It is unclear how many, if any, of those 2,000 are at the center that Melania Trump visited.
"I'm glad I'm here and I'm looking forward to seeing the children. But first of all, let me begin to recognize each of you and thanking you for all that you do, for your heroic work that you do every day and what you do for those children," Melania Trump said, during her visit at the New Hope Children's Shelter in McAllen, Texas. "We all know they're here without their families, and I want to thank you for your hard work, your compassion, and your kindness you're giving them in these difficult times."
While visiting the center, Melania Trump also mentioned the reunification of families that had already been separated. After the signing of Trump's executive order, it was unclear whether or not the order would result in such reunification, or simply a cease to family separations going forward.
The president's daughter also mentioned reunification during Melania's Texas visit.
"Now that an EO has been signed ending family separation at the border, it is time to focus on swiftly and safely reuniting the families that have been separated," tweeted Ivanka Trump, who works in the White House.
On Wednesday, while signing his order, President Trump indicated that both Melania and Ivanka Trump played a part in working towards ending family separations at the border.
"Ivanka feels very strongly. My wife feels very strongly about it. I feel very strongly about it. I think anybody with a heart would feel very strongly about it," the president told reporters. "We don't like to see families separated. At the same time, we don't want people coming into our country illegally. This takes care of the problem."
A day later, Melania Trump hopped on the plane and traveled to the border herself.