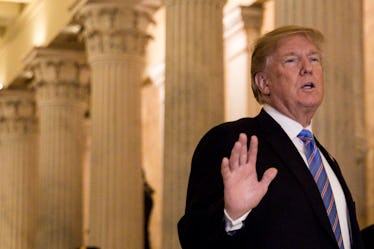 Trump Says He'll Be "Signing Something" On Family Separation, & Yup, That's How Specific He Got
Alex Wroblewski/Getty Images News/Getty Images
On Wednesday, June 20, President Donald Trump said he'll sign "something" on family seperation at the the United States border, which has been the result of his administration "zero tolerance" policy on immigration. The president's comment during the noon hour, after the president concluded a meeting with Republican members of Congress at the White House. Previously, the White House had asserted that only a comprehensive immigration reform bill, which includes funding for a border wall, could end family seperation.
"We're looking to keep families together," Trump told reporters on Wednesday, "it's very important."
When asked whether his action would be an executive order, the president told reporters, "We're gonna be signing an executive order, we're gonna also count on Congress obviously, but we are signing an executive order in a little while. We're gonna keep families together, but we still have to maintain toughness, or our country will be overrun by people, by crime, by all of the things that we don't stand for, that we don't want."
Elite Daily reached out to the White House for information about what, exactly, the president would be signing and when, but did not hear back immediately.
The New York Times, citing "a person familiar with the White House plans," reports that the executive order would end the seperation of families by detaining the families together, indefinitely.
Should Trump proceed to sign an executive order that dramatically changes his immigration policy — which he said he would do before traveling to Minnesota, where he is set to hold a rally — it would represent a major event in a three-month long timeline that began with an announcement from the Department of Justice on April 7.
On that day, the DOJ said it would initiate a new "zero tolerance" policy on illegal entry into the United States. The head of the DOJ, Attorney General Jeff Sessions, later clarified that the policy would result in a pursuit of "100 percent" prosecution of migrants illegally crossing into the United States, including those seeking asylum.
Since then, statistics from the Department of Homeland Security (DHS) have revealed that nearly 2,000 children had been separated from their parents during a six-week period between April and May.
During a press conference on Monday, the head of DHS, Kirstjen Nielsen, made a broad case for why the administration needed to be tougher in enforcing immigration laws. During the press conference, she said only Congress making broad changes to those laws would result in a change to the way the administration carries out its enforcement.
In other words, without comprehensive immigration reform — which Congress has not been able to achieve across multiple administrations — the Trump administration's zero tolerance policy would persist.
"Congress and the courts created this problem, and Congress alone can fix it," Nielsen said. "Until then, we will enforce every law we have on the books to defend the sovereignty and security of the United States."
But in the days leading up to Wednesday press conference at the White House members of Trump's own party had began publicly rejecting the idea that the Trump administration was bound by the law to separate migrant families.
In addition, the president hinted that he was no longer seeking a broad immigrant reform bill, exclusively, in order to change the administration's policy.
When asked on Wednesday whether he would consider a bill from Congress that only addresses family seperation at the border, the president responded, "We're gonna see what happens."
The president also implied that the recent coverage of his administration's policies led to his newfound intention to sign an executive order related to those policies. When asked whether the images of children being detained affected him, the president replied, "Yes, they affect everybody. Those images affect everybody."
Now it appears family seperation is coming to an end, albeit with little details about how or when.