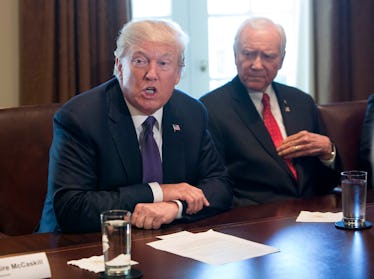 These Republicans Have Called For An End To Family Separation At The Border
Pool/Getty Images News/Getty Images
As the controversy over President Donald Trump's immigration policies continues to attract a rebuke from people in politics, one fact is hard to miss. The scrutiny of Trump's policies haven't simply come from commentators who work in the media or Democratic politicians. Among the critics of the policies, there have been a number of notable Republicans against family separation at the border.
Those Republicans include a former first lady, state representatives, former GOP politicians and current members of Congress. One of the congressmen is Utah Sen. Orrin Hatch, the 83-year-old Republican who first introduced the DREAM Act in 2001, the immigration reform bill that — after being proposed in different forms — has failed to gain passage through Congress over the pass two decades, and is one reason young undocumented immigrants have been labeled "Dreamers."
On Tuesday, June 19, Sen. Hatch signaled his intent to circulate a letter around the Senate, gain signatures from his colleagues, and call for a temporary end to the Trump administration's "zero-tolerance" policies at the United States' southern border. Those policies have led to the separation of migrant families attempting to cross that border, some of whom are seeking asylum.
Thousands of children who have been separated from parents have been kept in government facilities, leading to an outcry in the political sphere.
"Senator Hatch plans to send a letter to the Justice Department later today calling for a pause on family separations until Congress has time to pass a legislative solution to this issue," a tweet for Hatch's office read on Tuesday.
Earlier on Tuesday, Joe Strauss, the Speaker of the House of Representatives of Texas — where many of the migrant children who have been separated from parents are being held — released a letter to the president with a similar call to action.
Within the letter, he not only called for an end to the separation of migrant families, as Hatch did, the speaker went further.
The letter reads,
I know that members of Congress from both parties have proposed various ways to address this issue in the form of legislation, and while I applaud their attention to the problem, I also know that congressional action often does not come quickly. In order to at least begin addressing this issue, there is no need to wait for Congress to act. That's why I respectfully ask that you move immediately to rescind the policy that [Attorney General Jeff Sessions] announced in April and any other policies that have led to an increase in family separations at the border.
Straus also went on to reject the idea that the administration has its hands tied on the matter. "There is no federal law requiring the separation of children and parents at the border," his letter read.
Straus and Hatch are only the most recent Republican voices that have been raised against the Trump administration's immigration policies.
Another Texas Republican, Will Hurd, told CNN that it is unacceptable to use children as a deterrent against illegal immigration.
Attorney General Sessions has asserted that prosecuting migrant adults in the way the Trump administration has discourages illegal crossings.
Former first lady Laura Bush wrote an op-ed in The Washington Post, calling the separation of migrant families at the souther border "immoral." Nebraska Sen. Ben Sasse has also argued against the idea that the Trump administration is forced to separate families.
"The administration's decision to separate families is a new, discretionary choice," Sasse wrote in a Facebook post. "Anyone saying that their hands are tied or that the only conceivable way to fix the problem of catch-and-release is to rip families apart is flat wrong."
On multiple occasions, President Trump has argued that his administration has no recourse unless Congress changes immigration laws.
Even one of the president most resolute defenders, Evangelical leader Franklin Graham, has come out against the administration policy of separating migrant families, calling it disgraceful.
Simply put, the question is not whether there are Republicans who oppose the Trump administration on this specific issues, it's whether it matters. Sen. Hatch's letter to the Justice Department might provide an answer. And whether or not Congress moves forward with passing legislation that addresses the separation of migrant families could provide an answer as well.
Most important is the difference in solutions that Democrats and Republicans offer. While all 49 Democrats in the Senate support the Keep Families Together Act, which was introduced by California Sen. Dianne Feinstein, the bill had no Republican support as of Monday. Meanwhile, House Republicans have worked on a bill that ends family separation, but attaches measures that have no Democratic support, like the funding for a border wall.
In the meantime, the White House has maintained that it will not budge, until Congress passes a broader comprehensive immigration bill. Until then, the experience of migrant children at the border is unlikely to change.