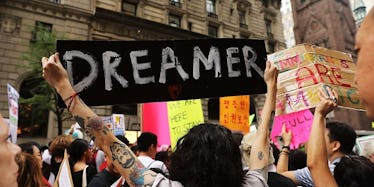 Trump Might End A Program That Protects Illegal Immigrants Who Came As Children
Spencer Platt/Getty Images
During the early days of his presidency, Donald Trump told media members that deciding what to do in regards to illegal immigrants who came to the U.S. as children has been one of the more difficult tasks he's faced. Now, after seven months in office, it looks like he's closer to that decision. On Friday, Aug. 25, Axios reported that Trump is considering ending DACA, otherwise known as Deferred Action for Childhood Arrivals.
DACA is an immigration policy that was introduced by former President Barack Obama and works as a program that protects illegal immigrants who entered the country as children. These immigrants are informally regarded as "Dreamers," because they fit the profile of the types of immigrants that inspired the DREAM Act -- a proposed law which was first introduced over a decade ago and would have provided a pathway to citizenship for undocumented immigrants who grew up in the U.S.
There are nearly 800,000 Dreamers who have been granted work permits and shielded from deportation under DACA, according to Politico.
A key fact about DACA is that it is not law. The DREAM Act would have been law, but the last serious effort to pass it in Congress -- which came in 2010 -- failed. Two years after that effort, Obama started DACA, which is a policy that his administration promoted and abided by.
However, Trump's administration is under no obligation to adhere to the policy. In fact, the president is under pressure to do away with it. The news of Trump's consideration for ending DACA comes a a group of attorneys general from 10 different Republican-controlled states are threatening to sue the federal government if DACA continues.
Though Trump's Attorney, Jeff Sessions, is against preserving DACA, the president himself has had an uncommonly softer tone on the subject. In February he said would approach DACA "with heart" and implied he wanted to avoid being "rough" on young Dreamers.
I find it very, very hard doing what the law says exactly to do. And you know the law's rough. I'm not talking about new laws. I'm talking the existing law is very rough. It's very, very rough.
After Friday's news, however, it looks like the president just may go with the "very, very rough" option.