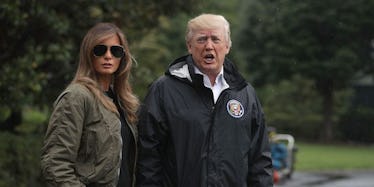 No One Can Get Over What Melania Trump Wore To Visit Texas For Hurricane Harvey
Alex Wong/Getty Images
On Tuesday, Aug. 29, the Trumps set out to visit Texas, as it's facing ongoing damage from Hurricane Harvey. This is a seemingly good-natured visit, but Twitter was shook when they saw that Melania Trump wore heels to visit Texas. I mean, the part of Texas facing historic floods and up to 50 inches of rain in some parts. So, yeah, maybe heels weren't the most sensible shoe option to pay a visit?
To be fair to the first lady, she was just wearing these stilettos while boarding Marine One from the White House. It is entirely possible that she will change footwear once they land. The Trumps plan to visit the Corpus Christi area, which was heavily impacted by Hurricane Harvey and still faces more challenges as the storm rages on.
Although this trip is apparently to survey the damage and work on helping those affected by the storm, many wondered if Trump's visit would instead further complicate logistics in Texas and become a distraction, especially if the president acts as the president does and instead of talking about the hurricane makes some weird comments about winning Texas in the election and how the hurricane was rough, but it really looked like there was violence on "many sides" here.
And so, the Trumps' Texas visit comes loaded with criticisms, and Melania Trump's shoe choice did not help them out much as they start the trip.
As a fellow heel-wearing-human, I must commend Mrs. Trump for feeling comfortable enough in stilettos to wear them to cross the dewy White House lawn and up the stairs onto Marine One. And, yes, the shoes themselves are beautiful:
But also as a fellow heel-wearing human, I know that there is a time and a place for stilettos, and starting one's visit to a flooded disaster zone where at least nine people have died and more than 30,000 people may be forced out of their homes is, perhaps, neither the time nor the place for them.
Let's hope she has an outfit change on board.