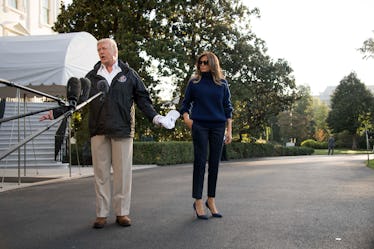 Melania Trump Wore Heels To Go To Puerto Rico And People Can't Get Over It... Again
JIM WATSON/AFP/Getty Images
So far, the first lady is three for three in getting slammed for her choice of footwear as she sets off to visit a disaster site. On Tuesday, Oct. 3, President Donald Trump and his wife Melania left Washington D.C. for their scheduled trip to see the Caribbean island after Hurricane Maria it in a state of extreme devastation. Melania Trump wore heels on her way to Puerto Rico -- again -- and people aren't having it.
Photos and videos show the president and first lady preparing to board their plane for their Puerto Rico visit. Melania Trump is seen dressed in a navy turtleneck sweater, slim-fitting trousers, and navy blue heels in her favored stiletto style. For the third time, some are criticizing her choice of shoes on social media.
The shoe drama started back on Aug. 29, when the first lady was slammed for wearing stilettos to visit the destruction in Houston after Hurricane Harvey. On a return trip, she seemingly defied her critics, rocking pumps a second time.
People on social media were critical of the first lady for the obvious: that her shoe choice was less than practical given she was heading to flooded hurricane-torn disaster areas. (She changed into a pair of sneakers upon arrival.) To be fair, some areas of Texas experienced record-breaking levels of rain — over 50 inches in certain parts — so people had reason to be concerned. The nicknames "disaster heels," "flood heels," and "hurricane heels" began popping up on Twitter, and the criticism was swift.
You can see her latest pair of "hurricane heels" here:
But beyond practicality, people were upset about what the gesture meant. The first lady wearing designer stilettos on her departure to visit hurricane victims was seen by some as an insensitive and tone-deaf response to the immense devastation and suffering that the victims were burdened with. (In my own opinion: During a time of what must have been unimaginable loss and grief for the people of Texas, the occasion perhaps called for something more subdued.)
In response to her critics, the president came to his wife's defense. Per The Hill, Trump was criticizing the media during a rally for senatorial candidate Luther Strange in Alabama on Sept. 22. He said,
She's wearing high-heels like many of you would do. And they went after her, but she didn't know, and then when she got off the plane in Texas she was wearing sneakers, which she had with her. And [the media] know it was dishonest.
He wasn't the only one to come to his wife's rescue. Late night host and comedian Trevor Noah also defended the first lady's choice of dress on his show, saying it shouldn't matter what someone wears when they're on the way to help people.
In addition, the designer Manolo Blahnik had some thoughts on what the first lady was wearing. In an interview with Harper's Bazaar, he said,
I don't think she's insensitive. I think she's working non-stop to make it work -- possibly she was just wearing the shoes she left New York in. Yes, I think probably she could have worn Hunter boots but she was wearing what she was wearing. I'm not good at advising people on what to wear because they wear what they want to.
The first lady's communications director also responded to the backlash last month, saying,
It's sad that we have an active and ongoing natural disaster in Texas, and people are worried about her shoes.
Still, it didn't stop people from posting about it on Twitter.
While some criticized or joked about her footwear choice, others merely made comments.
The president himself endured some of the backlash as well.
Photos from AP show FLOTUS in an entirely different ensemble as she deboarded the plane in Puerto Rico on Tuesday -- wearing much more suitable shoes.