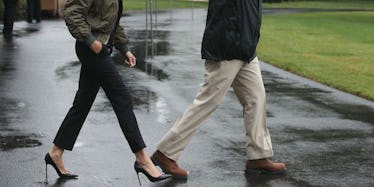 Melania Trump's Hurricane Heels Designer Defends Her Shoe Choice
Alex Wong/Getty Images
Melania Trump has had a less than amiable relationship with most of the fashion industry since Inauguration Day, with many big name designers refusing to dress her. This ongoing conversation revolving around Trump and fashion has persisted with the first couple's visit to Houston in the aftermath of Hurricane Harvey. People were outraged when Trump left for Texas in a pair of heels by Manolo Blahnik, finding it a bit inappropriate considering the circumstance and reason for their visit. While anybody can agree that heels are not hurricane-friendly, Manolo Blahnik himself defended Trump's Hurricane Harvey heels and expressed his disregard for politics altogether.
In a interview with Harper's Bazaar Blahnik said,
I don't think she's insensitive. I think she's working non-stop to make it work -- possibly she was just wearing the shoes she left New York in. Yes, I think probably she could have worn Hunter boots but she was wearing what she was wearing. I'm not good at advising people on what to wear because they wear what they want to.
While many of the designer's friends in the industry have refused to work with her, Blahnik and the first lady have been working together "long before all this nonsense," he told Harper's Bazaar. He went on to say,
They should just get rid of everybody and keep her. Aesthetically I mean, I'm not talking about politics – I don't give a damn about that and I don't know much about it. But in terms of fashion and beauty – well, I love her, she's a beauty and that's all there is to it.
There's much to talk about regarding Blahnik and the first lady, as well the public's fascination with Trump's fashion choices. First of all, it shouldn't come as a shock to anyone that Blahnik defended Trump's shoe choice. He is a successful designer whose merchandise is being displayed on the foot of the first lady of the United States. Regardless if she is well-liked by the masses or not, people are paying attention to her every move, literally. Second of all, Blahnik clearly expressed his indifference towards politics, so why would he make a noble and symbolic political statement to not work with her? If she embodies "fashion and beauty" in his eyes and nothing else, why make this political?
It is also worth mentioning the repeated and ever-present correlation we see between female public figures and the media's fixation on what they are wearing. Even if Trump did change into Converse sneakers shortly after that photo was taken, it is besides the point. What's more important is that the public finds it equally as important to pick apart the first lady's shoes as it is to criticize President Donald Trump's lack of physical interaction with Hurricane Harvey victims  and his less-than endearing speech at Corpus Christi that focused more on the crowd size than the tragedy that had just occurred. Trump's interaction with the victims compared to our former presidents made even George W. Bush and Bill Clinton look like saints.
It's not that the first lady's outfit choice could be described as appropriate or justified (even Blahnik himself suggested that Hunter boots might have been a better bet), but I think maybe we could deem it as altogether insignificant. The game of reducing public female figures, especially the first lady, to a conversation about shoes seems a bit outdated. We can do better, even for a woman that people may not be fond of.
Again, I think most could agree that her decision to change her shoes later rather than sooner was a bad call, but it seems generous to offer her this much 'shoe time' news coverage when there are much more concerning matters on the president's agenda that we should worry about.