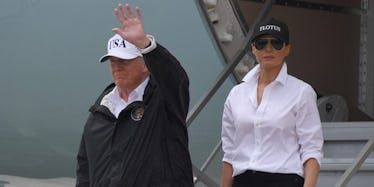 This Detail On Melania Trump's Hurricane Harvey Outfit Is Such A Weird Humblebrag
JIM WATSON/AFP/Getty Images
Donald and Melania Trump are making quite a stir with their visit to hurricane-stricken Texas on Tuesday, Aug. 29. But it's not just the logistics or the speeches sparking conversation, it's also the first lady's sartorial choices. After starting the trip with questionable footwear, Melania Trump wore a "FLOTUS" hat while surveying the damage of Hurricane Harvey.
Let's make that clear for you, dear reader. Trump donned a baseball cap -- much like the "Make America Great Again" headwear made famous by her husband's presidential campaign -- with the acronym "FLOTUS" on it. The hat itself is black with white lettering. The font of the white lettering, naturally, seems to be the same serif font as seen on the "MAGA" hats. It's all about the branding.
The first lady matched her husband, who was also wearing a baseball cap. His, however, was simple white with giant lettering reading "USA."
This was not Trump's first questionable fashion choice of the day. Earlier on Tuesday, she donned black stilettos to board Marine One on her way to Texas with the president. This sparked a lot of -- let's be real -- bad Twitter jokes about wearing stilettos to a flooded disaster zone. She changed into some bright white kicks once she got to Texas.
Trump's disaster chic look, compete with Top Gun sunglasses, got Twitter going all over again once she donned that cap, especially with jokes about her husband.
While the hat prompted jokes, there were many who spoke out in praise of the former model's sartorial choices.
To others, that "FLOTUS" detail was deemed super inappropriate to wear to a place where at least 11 people died, according to The Los Angeles Times. It was like a strange version of a humblebrag and branding all put together.
From her hat to her heels, Trump is definitely not having her best day as FLOTUS.