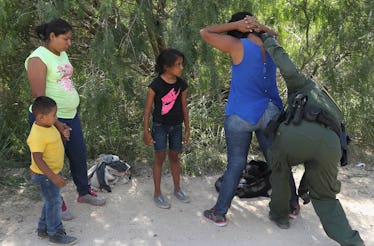 There Reportedly Are Not Plans To Reunite Families After Trump's Executive Order So That's A Major Issue
John Moore/Getty Images News/Getty Images
In the wake of heavy backlash over his "zero tolerance" policy, President Donald Trump signed a border executive order on June 20, which he says reverses the practice of separating migrant children from their families at the southern border. It's considered the first step in defusing escalating tensions over Trump's highly-controversial immigration policies, however, it also has many people (myself included) wondering: will Trump's executive order reunite families? TBH, there's no easy answer other than: it's complicated.
Since the implementation of the "zero tolerance" policy, more than 2,300 children have reportedly been separated from their parents and held in detention facilities while the adults remain in federal custody awaiting prosecution. Although Trump has said to have signed this order to end the harsh policy, Kenneth Wolfe, a spokesperson for the Administration for Children and Families, a division of the Department of Health and Human Services, told The New York Times that "there will not be a grandfathering of existing cases."
"I can tell you definitively that is going to be policy," Wolfe added.
Elite Daily reached out to the United States Department of Health and Human Services, as well as the Office of Refugee Resettlement, for comment on the report, but did not receive a reply by the time of publication.
Images and audio of the children in detention facilities have generated widespread condemnation, which makes the news incredibly saddening. On June 18, an unidentified source shared a recording with ProPublica, which appears to depict children — estimated to be between the ages of 4 and 10 years old — sobbing and wailing inside a Border Patrol facility. At one point in the eight-minute recording, children can be heard begging for their "mami" and "papa," and another young girl can be heard pleading to call her aunt for a ride. However, a border patrol agent can also seemingly be heard making a joke of their cries. "Well, we have an orchestra here," the worker says. "What's missing is a conductor." The audio has drawn harsh criticism, with some deeming it as cruel, worrisome, and alarming.
Elite Daily reached out to U.S. Customs and Border Protection and the Department of Homeland Security for comment on the recording and its veracity, but did not receive a reply.
The images are said to be a factor in what pushed Trump to get rid of the policy, though, believe it or not. Although he didn't back down from the idea of prosecuting adults who come into the country illegally, when signing the executive order on June 20, Trump said he "didn't like the sight or feeling of families being separated."
"It's about keeping families together, while at the same time being sure that we have a very powerful very strong border, and border security will be equal if not greater than previously. So we're going to have strong very strong borders, but we're going to keep the families together," he explained to reporters. "I didn't like the sight or the feeling of families being separated. It's a problem that's gone on for many years, as you know, through many administrations. And we're working very hard on immigration, it's just been left out in the cold. People haven't dealt with it, and we are dealing with it."
Although there's still a long way to go as far as these immigration policies go and getting these kids back with their parents, at least some progress has been made. Let's just keep the hope alive that we'll all see the outcome that we truly desire soon.
(IK, IK, that may be a stretch at this point, but I'm gonna keep my fingers crossed on this one.)