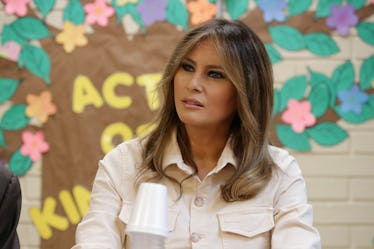 Melania Trump's Outfit Choice While Visiting Migrant Children Was A Terrible Idea
Chip Somodevilla/Getty Images News/Getty Images
Once again, a Trump has really stepped in it. I don't know what's going on over there at 1600 Pennsylvania Ave, but they seem to not understand timing or optics. Melania Trump's "I don't care," jacket for her border visit was just another bad choice for the first lady's journey through politics.
Trump seems to really have a knack for rocking outerwear that's totally inappropriate for the situation. This time, it's a Zara army jacket with the words "I really don't care, do u?" scribbled across the back, according to CNN, which she wore for her trip to visit an immigrant children's center in Texas on Thursday, June 21. The shelter in McAllen, Texas held more than 55 minors between the ages of 12 and 17, per ABC News. While facility officials said that most of the children there were unaccompanied minors who had entered the country alone, there were also some that had been separated from their families under Trump's "zero tolerance" policy.
Sure, it's a jacket that I'd totally buy, but it's not appropriate for Trump to wear while visiting migrant children given all they've been through at the hands of her husband's administration. On April 6, Attorney General Jeff Sessions announced a new "zero-tolerance" policy on immigration, under which all adults entering the country without documentation would be prosecuted, meaning that they would be separated from any children they were traveling with as the children cannot with their parents or guardians to jail. As of June 15, nearly 2,000 children had been taken away from their parents, according to The New York Times.
So if you're following, Trump wore an "I don't care" jacket to visit the migrant children in shelters, many of whom have been separated from their parents under President Donald Trump's policy. Not a good look. Honestly, Trump couldn't have made a worse fashion choice unless her jacket literally said "I don't care about immigrants, do you?"
Here's a closer look at what the back of the jacket says:
Trump's spokesperson, Stephanie Grisham, said in a statement to CNN that "it's a jacket" and it doesn't mean anything. She said,
It's a jacket. There was no hidden message. After today's important visit to Texas, I hope this isn't what the media is going to choose to focus on.
Forget the media, who wouldn't focus on it? Out of all the jackets in all the land, why did Trump go with that one? So, sorry Melania, but everyone is focused on it.
I really have a hard time believing that anyone is that oblivious. Trump knew where she was going, who she was visiting with, and how much outcry there's been over President Trump's policy. Also, it was from last season. Do you mean to tell me that the first lady who is always dressed to the nines in expensive designer wear, accidentally wore a $39 jacket from last season? I don't think so. How can it possibly be an oversight, especially given everything that's been going on this week?
On Monday, June 18, photos and videos from the detention centers were released, showing children sitting on mats under thermal blankets and behind cage-like chain-link fences. While reporters toured the facility, all the footage was released by Customs and Border Patrol (CBP), as the reporters weren't allowed to take any photos or videos themselves, according to CNN. After these images emerged, the outrage was even greater and the heat was on for the Trump administration to make a call. All five living first ladies spoke out against the policy, with former first lady Laura Bush even writing an op-ed against it for The Washington Post.
On Wednesday, June 20, President Trump reversed course and signed an executive order to ostensibly keep detained families together. But that doesn't do anything for all the children who had already been taken away from their families and held in detention centers like the one the first lady visited in her "I don't care" jacket.
Maybe it was a mistake, maybe it didn't mean anything, but it's still not a good look, Melania. Maybe next time, double-check your mirror.