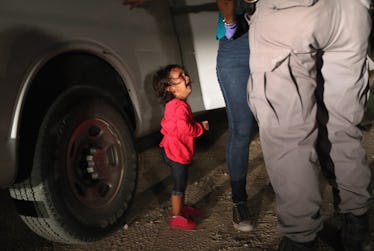 This Is How You Can Contact Congress About Families Being Separated At The Border
John Moore/Getty Images News/Getty Images
After reports of migrant children being separated from their families at the U.S. border, you might be feeling hopeless, helpless, and downright sad — and I don't blame you. But there are processes in place to make your voice heard, and if you're willing, you should use them. Here's how to contact Congress about families being separated at the border to stop the policy.
When you're getting ready to call your officials, it's good to be clear on what exactly is happening. There are two major bills — one in the House and one in the Senate — that have been introduced within the last two months that aim to limit the number of children and parents separated.
But why are they being separated in the first place? In April, U.S. Attorney General Jeff Sessions ordered prosecutors to implement his "zero tolerance" policy at the Mexico border — punishing illegal immigrants regardless of whether they are first-time offenders, asylum-seekers, or parents with small children. That policy has apparently contributed to a rising number of unaccompanied children in U.S. custody. In just a matter of weeks, there has been at least one suicide and several other attempts made by detainees in custody, according to Vox.
The sprawling number of military outposts being retrofitted as detention centers is concerning, because the government is taking on a responsibility for human detainees that it cannot reasonably accommodate. MSNBC journalist Jacob Soboroff was among the first journalists allowed inside a shelter for unaccompanied migrant children in Texas, called Casa Padre. Soboroff reported on June 13 that the Casa Padre shelter received a variance from the state because of overcrowding — the space allows for four boys per room, but nearly every room has five.
"I have been inside a federal prison and county jails," Soboroff tweeted. "This place is called a shelter but these kids are incarcerated. No cells and no cages, and they get to go to classes about American history and watch Moana, but they're in custody."
It's disheartening and profoundly cruel, but you can tell people who can do something about it — your elected officials.