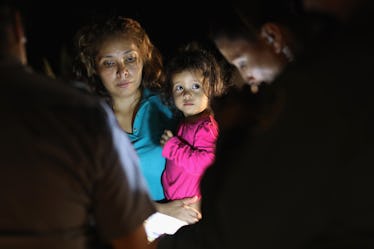 Here's Where You Can Donate To Help Families Separated At The Border
John Moore/Getty Images News/Getty Images
Thousands of children have been separated from their parents in a sweeping crackdown on illegal immigration, thanks to policy implemented under President Donald Trump. Wondering how you can help those who have been impacted? Here's where to donate to help families separated at the border.
On April 6, Attorney General Jeff Sessions rolled out a new "zero-tolerance policy" cracking down on illegal immigration. The policy ruled that families would be subject to separation as adult family members faced prosecution for illegally crossing the border. Children of detained parents would be held in U.S. custody separate from their parents.
In just six weeks since the policy was implemented, nearly 2,000 children had already been taken into custody. NBC reports that many of them have been held for longer than the designated 72-hour maximum detention period, and many are under the age of 12. In an audio clip published by ProPublica on June 18, secretly recorded from one of the facilities where children are being held, the detained kids can be heard wailing and crying.
While Trump himself has not taken any of the blame for the policy, there are ways to help those suffering at the border. There are plenty of organizations that need your support in this fight. Advocacy groups, particular those that provide legal services, are crucial in helping those who have been apprehended at the border get justice. (Remember Trump's travel ban? They were on the front lines and behind the scenes fighting for immigrants who were being denied basic rights.)
This is by no means a comprehensive list; think of it as a starter kit of organizations working to help immigrants trapped in the new border-patrol system.
Refugee and Immigrant Center for Education and Legal Services (RAICES)
This Texas-based nonprofit provides free or low-cost legal services to immigrant children.
American Civil Liberties Union (ACLU)
The powerhouse has been litigating against Trump's policies since day one, and is advocating on behalf of immigrants right now, including cases of families who have been separated.
(Side note: In honor of Trump's 72nd birthday on Thursday, June 14, husband-and-wife powerhouse Chrissy Teigen and John Legend donated thousands to the ACLU, sparking a flood of other contributions that ended up totaling more than $1 million over a few days.)
The state's nonprofit is working to stop the practice of separating families.
Young Center for Immigrants Children's Rights
This group has a project dedicated to immigrant children, which includes legal representation for detained children.
Asylum Seeker Advocacy Project (ASAP)
In addition to connecting asylum seekers with resources, this group works to prevent unlawful deportations.
Kids In Need of Defense (KIND)
This group works to specifically assist children immigrants, particularly in making sure they have adequate legal representation and working to support policies that protect children.
Florence Immigrant & Refugee Rights Project
The Florence Project provides free legal and social supports to detained immigrants in Arizona.
This program — a joint pro bono venture by four other groups — assembles law students, social workers, and other professionals to assist those in need on the ground in Texas, specifically in response to the crackdown on immigration.
The group will divide up donations to eight different organizations working to provide legal support for immigrants.
Aside from these listed above, Mashable and Slate both have other groups listed among their noted organizations to support.
In a thread on Twitter, Marielena Hincapié, executive director of the National Immigration Law Center (NILC), shares her advice on how to get involved, including where to donate and how to take other actions.
(And it's worth noting, as Hincapié does, that this immigrant crisis at our border is far from the only one; there are other refugees in dire conditions around the world that can use your support, if you're so inspired.)
Of course, donating money isn't the only way to help. You can always give your time and energy in other ways, such as organizing protests and marches, calling your representatives, writing letters to the editor, and registering people to vote, for example. Wherever you donate or decide to give your time and energy, it's sure to help families who are suffering as a result of the policy.