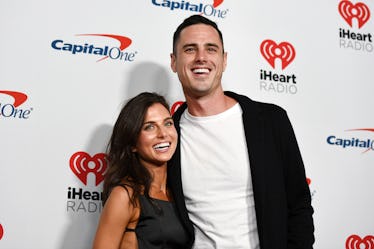 Ben Higgins & Jessica Clarke's Relationship Timeline Began With A DM Slide
David Becker/Getty Images Entertainment/Getty Images
There's something innately comforting about a former Bachelor star finding love in the real world. Sure, watching a contestant pop the question with a jaw-dropping Neil Lane ring at the end of a reality TV competition is exciting, but those televised happily-ever-afters don't work out for everyone. That's the case for Ben Higgins — but fortunately, he eventually found "The One" on social media of all places. Ben Higgins & Jessica Clarke's relationship timeline may not be a Bachelor love story, it's definitely a relatable one.
Before we get into their digital meet-cute, however, let's take a trip down memory lane. In case you need a refresher, Higgins proposed to Lauren Bushnell on the 20th season of The Bachelor, but the couple ended their engagement in May of 2017 (and Bushnell has since married country star Chris Lane). Higgins didn't share another serious relationship with the public for over a year. So, when he announced on Instagram in 2019 that there was a new leading lady in his life (and that — *gasp* — she had no affiliation whatsoever with The Bachelor alumni) fans were shook. In fact, Jessica Clarke, a Nashville resident and University of Mississippi graduate, had never even seen Higgins' season of the show when they met. However, the duo shared a couple of other key things in common: a love of sports, and a serious humanitarian streak.
While there may not be a fantasy suite or a final rose involved in Higgins and Clarke's timeline, theirs is one that's packed with real-life, long-distance romance. Follow along to learn about (*Chris Harrison voice*) the most chill finale in Bachelor history.