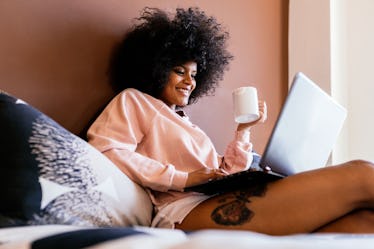 5 Signs Your Long-Distance Relationship Is Strong, So Don't Worry
Making a long-distance relationship work is no easy feat. As someone who's done it, I think it's actually one of the hardest relationship hurdles to overcome. Even if things are going well, it can be so easy to second guess whether or not you're both just wasting time together. That's why it's so important to know the signs your long-distance relationship is strong, even if things aren't perfect — because if you're making it work, then you and bae def deserve a pat on the back.
Whenever I would tell people I was in a long-distance relationship and was actually happy with the arrangement, I could almost immediately sense their skepticism. It seems like maintaining a successful long-distance relationship has been written off by many as virtually impossible. Everywhere you turn, it feels like someone always has something to say echoing the sentiment that "they just never work out in the end." However, after making long-distance work for nearly two years, I'm here to tell you that it's totally possible to maintain a strong partnership while living in different locations. If you're wondering whether or not your LDR is in a good place, despite the distance, here are some signs things are definitely moving in the right direction.