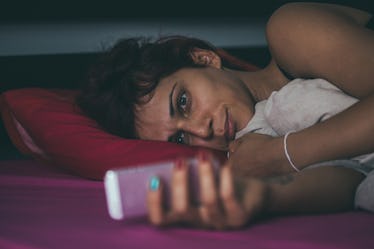 9 Ways To Keep The Spark Alive When You're In A Long-Distance Relationship
Did you know that you can watch Netflix with your partner even if you're not in the same room together? If you can keep up your Netflix and chill routine with bae when you're apart, you can definitely maintain a long-distance relationship. The Netflix Party Google Chrome extension allows you to watch the same movie or TV show at the same time with that special someone who happens to be miles away because sometimes, all you need in a long-distance relationship is to feel like you're closer together.
The key to making your long-distance relationship work is to ensure that you and your partner aren't merely internet pen pals. That means finding creative ways to spend time together without falling into a rut of sleepy, nightly FaceTime calls. Comforting as those may be, they're not enough to sustain a happy relationship. You still need to find outlets for fun, intimacy, and romance, which is where Adam Maynard, relationship coach, comes in. Maynard spoke to Elite Daily about his favorite tips for long-distance couples looking to keep things interesting and they're all remarkably easy to execute.
Before you know it, your friends in traditional relationships will be coming to you and your partner for relationship advice.