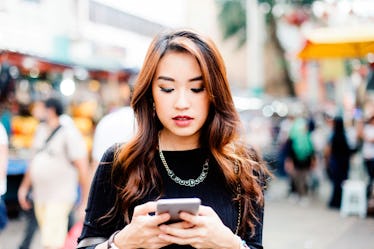 3 Signs Your Long-Distance Relationship Isn't Working, No Matter How Hard You Try
Making love last when you and your partner are separated by distance can be one of the hardest relationship storms to weather. After all, the whole point of being in a relationship is having a partner who's there to make the good times even better, and the hard times less difficult. This can prove to be a real struggle when you aren't able to see each other regularly. Sadly, no matter how much effort you put into it, you may still start to notice the signs your long-distance relationship isn't working. Even though this can be a crushing revelation, it's so important not to ignore the red flags that could mean something's not right.
Unfortunately, long-distance simply isn't for everyone. I spoke with relationship expert and love coach Susan Winter and dating and relationship writer Demetrius Figueroa to find out how you can tell your LDR just isn't working as well as it could be. According to Figueroa, it's definitely not impossible to make a LDR work, it just takes more effort to maintain the bond.
"You can't always physically be in the same place as your partner, but you can put yourself in a position where you are 'close,'" Figueroa tells Elite Daily. "That usually means remaining in close contact, whether through daily check-ins or calls, video phone calls, and generally doing anything you can to make your partner feel your presence in their life, even when you can't physically be there."
If you or your bae are having doubts about whether or not your partnership can last, here are some signs it might be time to re-think things.