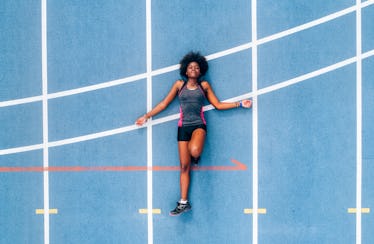 8 Things You Need To Be Prepared For When Starting A Workout Routine For The First Time
Starting a workout routine can be daunting if you've never really had one before. Even if you feel really inspired when you first start out, it can be a little nerve-wracking if you just plain don't know what to expect from your fitness journey. While there are a few things to prepare for in your first workout routine to help make it all a little easier, the most important thing to remember is that it's all about finding what feels good, and having fun along the way.
Challenges may lie ahead, yes, and at times, you might even feel a bit discouraged, but above all, remember that venturing into the vast, but oh-so-exciting world of fitness should be something you genuinely enjoy doing.
"Do what is right for you," Evan Renfroe, a certified personal trainer and sports nutrition specialist, tells Elite Daily. "While it can be overwhelming to sort through a vast amount of tips, techniques, and how-to's, the best place to start is always with you and your goals."
So, if you're looking to get started with your very first, full-fledged workout routine, use these expert-backed tips to guide you through this amazing journey you're about to embark on.