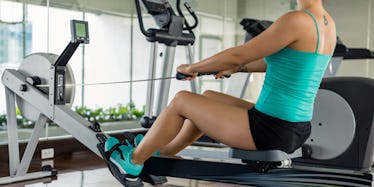 Why Rowing Should Be Your New Form Of Cardio, Especially If You Hate The Treadmill
Whether you've absolutely loathed running from day one, or you're simply getting bored with your monotonous treadmill sessions, you are not alone, my friend. There are plenty of people who aren't exactly the treadmill's biggest fan, but hey, that's why most gyms offer a ton of other cardio alternatives, right? Enter the rowing machine: If you've always been skeptical of that big, bulky contraption at your gym, you should know there are actually a lot of benefits of rowing, one of which is simply the fact that it's not running. That, in and of itself, is reason enough to try it out, if you ask me.
Real talk though, while there are definitely pros and cons to the treadmill, for some people, it simply doesn't make them feel their best in any way. From knee pain, to joint aches, to treadmill-induced injuries, finding a cardio alternative might just be the best thing for you in your workout routine.
According to LIVESTRONG, rowing machines are a great form of low-impact cardio that can simultaneously act as a form of strength training, a benefit that a dreadmill simply cannot provide. Low-impact workouts are also much more gentle on your joints in general, LIVESTRONG reports, so if your body doesn't feel its best while going for those daily runs on the treadmill, it might be time to hit up your nearest rowing machine.
Here are five reasons why rowing should be making its way into your workout routine, especially if the treadmill has slowly but surely made its way onto your sh*t list.